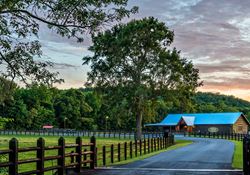 SYLACAUGA, ALABAMA (PRWEB) September 29, 2016
The Orvis Shooting Grounds at Pursell Farms will celebrate its Grand Opening October 8-9, 2016. The main event will be held Saturday, October 8th, when visitors will find exhibitors as well as seminars and demonstrations for kids and adults around the picturesque property. Highlighting the weekend are giveaways and raffles from Orvis and other vendors.
The main event will feature dog-training seminars, a variety of hands-on youth programs, a field-to-table cooking demonstration with Chef Chris Hastings of Ovenbird and Hot and Hot Fish Club, and a Land Rover driving course. Expert instructors will be on hand for free fly-casting lessons, and will offer novices the opportunity to learn to shoot a shotgun under their watchful eye in a fun and safe environment.
The shooting grounds are the result of a partnership signed this summer between Pursell Farms LLC, the esteemed boutique resort set in the Alabama countryside offering sporting services, an exceptional golfing experience, deluxe lodging and high-tech meeting space; and The Orvis Company, Inc., the world-renowned sporting retailer and services provider with more than 80 stores in the U.S and the U.K.
The new sporting clays course is fully automated and was designed with both the novice and advanced wingshooter in mind. With 12 stations nestled at the base of scenic Chalybeate Mountain in the rolling foothills of the Appalachians, multiple shots are designed to replicate various hunting scenarios in both wooded and open-field settings. Station #8, Bandtail Pigeon, overlooks historic Fayetteville, offering a remarkable view of native grassland fields and a backdrop of rolling hills.
For more information, visit http://www.orvis.com/pursellfarms
***
About The Orvis Company:
Founded in 1856, Orvis pioneered the mail order industry in the United States, operates more than 80 retail stores in the U.S and the U.K., including its Flagship store in Manchester, VT, and maintains a network of over 400 dealers worldwide. The oldest continuously operating catalog company in the country, Orvis is a premier outfitter of outdoor adventures. A leading corporate steward for the environment, Orvis contributes 5% of its pre-tax profits to protect nature, support communities and advance canine health and well-being. Learn more at http://www.orvis.com.
About Pursell Farms:
Established in 1975 by the Pursell Family and located at Pursell Farms in Sylacauga, Ala., Pursell Farms includes a one-of-a-kind research and demonstration facility and Farm Links Golf Club, an 18-hole, 7,444-yard, award-winning championship golf course that is open to the public. The company's cutting-edge environment also offers high-tech meeting spaces, deluxe lodging options and first-rate fishing and wildlife habitat with 5-stand clay shooting range and unique hunting adventures. To learn more about Pursell Farms, visit http://www.pursellfarms.com.