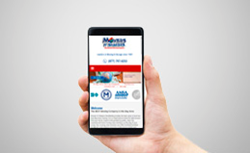 "We wanted a web design platform that would allow the average Joe to secure our services, get helpful information, as well as visitors moving to and from the Bay Area." - David Brookshire. Owner of Movers N Shakers
(PRWEB) September 29, 2016
Movers N' Shakers Worldwide is a company located in the Bay Area that specializes in household packing, residential moving, office relocation, and storage. They have recently launched a mobile-friendly website for all its customers to view and access the information they want about their business.
One of the main reasons behind this move is that the management and staff of Movers N' Shakers Worldwide wanted their current and potential clients to get a hold of their services or any relevant information about them in an easy and friendly manner. This is why they enlisted the expertise of KO Websites to create for them a responsive and new-age website.
Movers N' Shakers Worldwide provides unique moving services to residents of the San Francisco, Bay Area. In addition to carrying out local moves, long distance moves, storage, and packing services, Movers N' Shakers Worldwide is also keen on customer satisfaction. According to the manager of the company, "we wanted a web design platform that would allow the average Joe to secure our services, get helpful information, as well as visitors moving to and from the Bay Area." On hearing their request, Ken O' Donnell, Founder and President of KO Websites, knew straight away what had to be done to bring to fruition the dreams of Movers N' Shakers Worldwide.
The new website created for Movers N' Shakers Worldwide consists of service packages ranging from moving, packing, relocation, storage and many others. On top of that, the website is mobile responsive and includes an inventory checklist that will provide you with an approximate truck size estimate for your move. This means that you can rest assured the truck coming to move you will not be too small or too large for your things. If you wish to look at their new website, and see what the company has to offer in terms of moving services, simply visit http://www.moversnshakers.com/, you will not be disappointed.
About Movers N' Shakers Worldwide
When it comes to moving services, Movers N' Shakers Worldwide offers a great value to the Bay Area and residents of the west coast. It is quite essential to invite the right kind of movers into your home and this is why with Movers N' Shakers Worldwide, you can expect a warm greeting from highly-professional crew members when you need to move. All staff of the company are Certified ProMovers and have undergone top-rate packing and moving training.
About KO Websites
Since 2000, San Francisco Bay Area based KO Websites has created beneficial relationships with businesses across all fields when it comes to website and design. In conjunction with its sister company, SEO PRO, it provides marketing digital solutions like PPC (Pay-per-click), social media marketing, advertising, video services, and reputation management/digital presence. You can visit their website for more information at http://www.ko-websites.com.