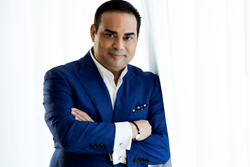 New Brunswick, NJ (PRWEB) September 27, 2016
State Theatre New Jersey presents Gilberto Santa Rosa "The Gentleman of Salsa" on Saturday, October 1, 2016. Tickets range from $35-$85.
Six-time Grammy® Award-winner—and one of the most successful Latin music vocalists in the world—Gilberto Santa Rosa also comes to State Theatre New Jersey for an intimate evening of music. Santa Rosa, El Caballero de la Salsa (The Gentleman of Salsa) has had 12 consecutive #1 albums, more than any artist in tropical music history, and was named the tropical music artist of the decade by Billboard magazine. Santa Rosa's musical elegance and style has made him one of the most prominent figures in music today.
On January 6, 1975 Gilberto Santa Rosa made his national debut as a vocalist on a televised Christmas special. This marked the beginning of a wonderful musical career that lasted for more than three decades. His presence with La Grande orchestra for two years, as well as his participation with the groups Don Perigñon, Fantasía Boricua of Manolito Rodríguez, and the Puerto Rico All Star Tommy Olivencia, placed the young Puerto Rican on an important pedestal in the Salsa movement of the 70's.
Guided by his musical desires, he became part of the Willie Rosario orchestra in 1981. This movement placed him as one of the new voices of the Salsa movement in Puerto Rico as well as the international scene. The union to Willie Rosario added musical hits like "Lluvia" and "Botaron la pelota," songs that have transcended through time.
His path as a solo singer was established in the second half of 80's; a period where he became known as the "Caballero de la Salsa." Santa Rosa's unique style as a tropical artist appeared in early albums Salsa en Movimiento, Keeping Cool, Good Vibrations and De Amor y Salsa, for Combo Records.
After 1990, Santa Rosa became part of multinational record label Sony Discos (currently Sony Music Latin), recording almost 20 albums including such hits as; Perspectiva (1991), A dos tiempos de un tiempo (1992), "En Vivo Desde Carnegie Hall" (1995), Esencia (1996), Expresión (1999), Intenso (2001), Sólo bolero (2003), Auténtico (2004), Directo al corazón (2006), Contraste (2007), all awarded by the American Recording Association "RIAA" for the success in sales. Also, Una Navidad con Gilberto (2008), Irrepetible (2010), and Gilberto Santa Rosa (2012).
Santa Rosa was awarded the Lifetime Culture Achievement award in September 2012 in New York City. By the South-South News Organization, an agency ascribed to the United Nations. This important acknowledgment is given to individuals that have performed significant contributions for world development.
In 2013, Gilberto debuted on Broadway, where he was an invited guest in the musical production revival of Forever Tango at the Walter Kerr Theater. His performance showed his great stage charisma and variety of talents captivating the American public while singing Tangos and Ballads.
2015 was a wonderful year for Gilberto. In March he received the first "Premio Estrella" awarded by the most important Festival in the salsa genre (Día Nacional de la Zalsa), presented in prestigious stages across Peru, Mexico, United States, and many other countries. Also in 2015 Gilberto launched in the U.S. and Puerto Rico his latest album Necesito un Bolero (I need a Ballad). The project, his first for Sony Mexico, is composed of 14 songs and among them four powerful duets with music legends: Marco Antonio Solis, Eugenia Leon, Natalia Lafourcade, and Lena. This album earned him his fifth Latin Grammy ® Award, and first in the Pop field for Best Traditional Pop Vocal Album.
State Theatre New Jersey—creating extraordinary experiences through the power of live performance.The theater exists to enrich people's lives, contribute to a vital urban environment, and build future audiences by presenting the finest performing artists and entertainers and fostering lifetime appreciation for the performing arts through education. State Theatre New Jersey's programs are made possible, in part, by funding from the New Jersey State Council on the Arts/Department of State, a Partner Agency of the National Endowment for the Arts, and contributions from numerous corporations, foundations, and individuals. The Heldrich is the official hotel of State Theatre New Jersey. Magic 98.3 is the official radio station of State Theatre New Jersey. The Star-Ledger is the official newspaper of State Theatre New Jersey. United is the official airline of State Theatre New Jersey.
STATE THEATRE NEW JERSEY
15 Livingston Ave
New Brunswick, NJ 08901
Up-to-the-minute information on events and State Theatre New Jersey news,
online at http://www.StateTheatreNJ.org.
# # #