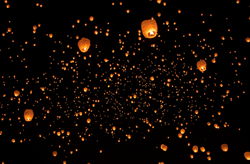 We love bringing this magnificent event to new locations
Salt Lake City, UT (PRWEB) September 28, 2016
A tapestry of hopes and dreams fill the night sky as the Lantern Fest travels from coast to coast. This family-friendly event brings communities together in a celebration of light as thousands of Chinese Lanterns, decorated with hopes and dreams, are released. More than 112,000 revelers have already participated in Lantern Fest events this year. With another eleven festivals on the 2016 calendar, organizers anticipate thousands more people will come to witness the spectacle.
"The lanterns are breathtaking, " said Lantern Fest spokeswoman Amy Gessel. "We love bringing this magnificent event to new locations."
As the festival continues to gain popularity, organizers expand the event to new cities and larger venues. The largest event to date was just a few weeks ago, when almost 13,000 participants gathered in the Poconos. Events in Denver, Cincinnati, Austin, St. Louis, Colorado Springs, Indianapolis, Phoenix, Albuquerque and Dallas are still to come in 2016, and locations for 2017 events are already listed on the Lantern Fest website.
"This event is for everyone," said Lantern Fest co-owner John Malfatto. "People come for different reasons. Some families attend to remember a loved one, others search for strength during hard times and there are always a few who just want to snap a few shots for Instagram."
Gates open in the afternoon and participants can enjoy a stage show, live music, s'mores, face painting, inflatables, food and photos with princesses prior to the lantern release. Event organizers invite participants of all ages to join the fun.
Lantern Passes for many events are now available for purchase online at http://www.thelanternfest.com. Find more information and a location near you at http://www.thelanternfest.com/locations or check out what fans have to say on The Lantern Fest Facebook page at: http://www.facebook.com/thelanternfest
About The Lantern Fest
Historically, Chinese Lanterns have symbolized good fortune, requested favorable weather, and celebrated the lives of loved ones. In 2014, The Lantern Fest translated this ancient tradition into a family-friendly festival with food, music, s'mores, and children's entertainment. When the sun goes down, lanterns paint the sky in a spectacular release. The Lantern Fest is growing rapidly, and now holds events all over the country.