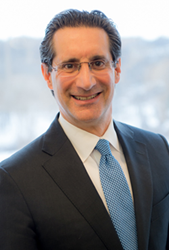 Rye Brook, New York (PRWEB) September 28, 2016
Randy P. Siller, CPA®*, CIMA®, partner of Siller & Cohen and registered representative of Lincoln Financial Advisors Corp., was recently appointed vice chairman of the Estate Planning Committee by the New York State Society of CPA's (NYSSCPA), serving a term of two years in this role.
As vice chairman, Siller will help lead the Estate Planning Committee in underscoring the organization's mission to continue to educate clients and the general public about the transfer tax laws and latest planning techniques and strategies available today. Prior to this appointment, Siller had been a member of the NYSSCPA Board of Directors for four years.
"The NYSSCPA estate planning committee is made up of professionals dedicated to helping families preserve assets they've worked so hard to accumulate. I am honored to be asked to take on a leadership role and continue the great work of those who have led this committee in the past," expressed Siller.
With more than 30 years in the financial services industry, Siller joined Lincoln Financial Advisors as a registered representative in 1986. He co-founded Siller & Cohen, a family wealth advisory firm, in 1988 and served as senior vice president and national director of Private Wealth Services for Lincoln Financial Advisors/Sagemark Consulting from 1999 to 2002. Prior to joining Lincoln, Siller served as a senior tax manager with Touche Ross. Siller is a member of the NYSSCPA Family Office Committee, as well as a member of the Finance and Audit Committees for Community Healthcare Network.
Siller earned a bachelor of science degree in Accounting from the University of Connecticut in Storrs, Conn. in 1979 and has a master of science degree in Taxation from Pace University in Pleasantville, N.Y. He holds the professional designations of Certified Public Accountant (CPA®)* and Certified Investment Management Analyst (CIMA®).
Siller's offices are located at 800 Westchester Avenue, Suite S-504, Rye Brook, N.Y. and 250 Park Avenue, 7th Floor, New York, N.Y. 10017.
*Licensed, not practicing
About Lincoln Financial Network
Lincoln Financial Network is the marketing name for the retail sales and financial planning affiliates of Lincoln Financial Group and includes Lincoln Financial Advisors Corp. and Lincoln Financial Securities Corporation, both members of FINRA and SIPC. Consisting of almost 8,500 representatives, agents, and full-service financial planners throughout the United States, Lincoln Financial Network professionals can offer financial planning and advisory services, retirement services, life products, annuities, investments, and trust services to affluent individuals, business owners, and families.