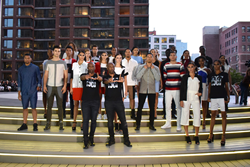 New York, NY September 17 (PRWEB) September 29, 2016
The multitalented Uwi Twins' journey took them from their African roots to Canada to New York to Paris, which doubles as a beautiful narrative for what influenced their SS '17 collection. The Parisian Street-wear inspired collection will be shown in the heart of Paris to the International fashion industry. The young designing duo who escaped the Rwandan genocide in 1994 has now reached a new level within the fashion business and will be showcasing their unique line, inspired by European fashion, combined with their personal French influence & African roots amongst the best.
These gifted and upcoming designers have caught the eye of buyers internationally and will be adding a bag collection to their growing empire in the spring. Their journey has been that of Dreams becoming Reality which is a true inspiration to the millennial and beyond. Their success is a shining examples of why Malena Belafonte's THE JOURNEY FASHION FESTIVAL was conceived. A platform that combines diversity and accessibility for established and emerging domestic and international designers, giving them a high profile presence during Fashion Week in NY and additional markets, in a new and innovative format.
Please email for more information or any further requests regarding UWI TWINS.