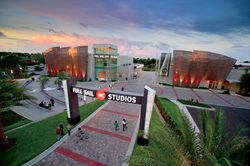 Winter Park, FL (PRWEB) September 27, 2016
Full Sail University has been recognized by Washington Monthly magazine as one of "America's Best Bang for the Buck Colleges 2016" earning a coveted spot in the Top 30 list out of 256 schools within the Southeast.
According to Washington Monthly, the "Best Bang for the Buck" list examines colleges and universities that help students attain marketable degrees at affordable prices. This national ranking is broken down by region (Northeast, Midwest, Southeast, South and West), and appears in the publication's September/October 2016 issue and College Guide, as well as online.
Colleges and universities appearing on the list are ranked based on graduation rates, predicted median earnings, enrollment of first-generation students and more. The exclusive list can be viewed in its entirety at http://washingtonmonthly.com/magazine/septemberoctober-2016/americas-best-bang-for-the-buck-colleges-2016/. For an in depth look at the rankings methodology, visit: http://washingtonmonthly.com/magazine/septemberoctober-2016/a-note-on-methodology-4-year-colleges-and-universities-7/
Other schools in the region appearing on the list include: University of Florida (#6), University of North Florida (#28), University of Central Florida (#36), Florida State University (#41), and University of South Florida (#67). Full Sail University appears at #27 on the list within the Southeast.
About Full Sail University:
Full Sail University is an award-winning educational leader for those pursuing careers in the entertainment and media industry. Founded in 1979, Full Sail has been recognized as one of the Best Music Programs by Rolling Stone Magazine, and one of the Best Film Programs by UNleashed Magazine. Full Sail was named the "2016 School/College of the Year" by the Florida Association of Postsecondary Schools and Colleges, has received the "21st Century Best Practices in Distance Learning Award" from the United States Distance Learning Association, and was recognized as one of the Top 100 Social Media Colleges by Studentadvisor.com.
Full Sail University is a Graduate and Undergraduate degree-granting institution offering on-campus and online degree programs in areas related to Art & Design, Business, Film & Television, Games, Media & Communications, Music & Recording, Sports, and Web & Technology. Full Sail graduate credits include work on OSCAR®, Emmy®, GRAMMY®, ADDY®, MTV Video Music Award, and Video Game Award nominated and winning projects. For more information visit: http://www.fullsail.edu.
###