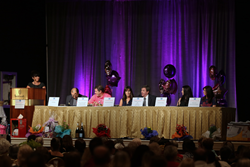 This event is a great resource for this because it covers a wide variety of health topics
Tarpon Springs, FL (PRWEB) September 27, 2016
Florida Hospital North Pinellas is paving the way for women to become more knowledgeable and proactive about their health by hosting their "4th Annual Girl Talk – Everything you Wanted to Know but Were Afraid to Ask."
The event takes place on Tuesday, October 25, 2016 at Innisbrook Golf Resort and Spa in the Inverness Hall at 36750 US Highway 19 North in Palm Harbor. It starts at 4:30 pm and is a unique opportunity for women of all ages to speak with medical professionals in a relaxed and comfortable environment that promotes candid discussion. Generally, women have questions about their health, but between their busy schedules and caring for others, they oftentimes dismiss the hard but important questions. Florida Hospital North Pinellas strives to help all women talk with their doctors about health concerns and questions.
Six Florida Hospital doctors will participate on the panel with specialties in Cardiology, Obstetrics and Gynecology, Orthopedic Surgery, Wound Care, Internal Medicine, Oncology, Family and Sports Medicine to answer questions and discuss important topics. If you are a woman or care about a woman in your life, then this free event creates an invaluable opportunity for you. This outreach event is a chance for the community to discover information about their health, as well as ways to put this crucial knowledge to good use in efforts to live a longer, healthier and happier life. Men are also welcome to attend.
"Florida Hospital North Pinellas is happy to host our Girl Talk event for the fourth year in a row. In addition to health screenings and our physician question and answer session, we will also have a variety of local vendors at the event, from retail stores for shopping to restaurants, making it a very fun evening out for community member," said Christine Longley, Director of Community Outreach.
Attendees will be able to partake in free health screenings that will be available from opening until a sit down dinner at 6:00pm. Beginning at 7:15pm, a panel of doctors will be answering questions, covering a variety of medical topics. Guests will have an opportunity to get pampered, holiday shop, win prizes and take pictures in a fun-filled photo booth capturing the lively evening.
"It is extremely important for women to stay up-to-date and educated on their health and wellness. This event is a great resource for this because it covers a wide variety of health topics and provides access to physician experts across multiple specialties," said Jennifer Segur, MSN, RN, Director of Emergency Services.
Florida Hospital North Pinellas is at the forefront in recognizing the importance of education and informing the public on pertinent health information.
Florida Hospital North Pinellas's 4th Annual Girl Talk is open to everyone, including men. Space is limited and reservations are required. Please call (727) 943-3600 to reserve your spot and visit https://www.floridahospital.com/north-pinellas/events/4th-annual-girl-talk for more details.
About Florida Hospital North Pinellas
Florida Hospital North Pinellas, located in Tarpon Springs, is a 168-bed, full-service hospital specializing in cardiovascular medicine, emergency medicine, orthopedics, wound healing, sleep medicine and general surgery including minimally invasive and robotic-assisted procedures. Florida Hospital North Pinellas has been nationally recognized by the American Heart Association, the American Stroke Association, The Joint Commission, and The Leapfrog Group, for excellence in providing quality patient care. Florida Hospital North Pinellas serves both the Pinellas and Pasco communities of West Central Florida. Part of the Adventist Health System, Florida Hospital is a leading health network comprised of 26 hospitals throughout the state. For more information, visit http://www.FHNorthPinellas.com