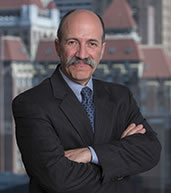 Nick's years of experience, with regard to high-performance buildings and sustainability, are an excellent match with BOMI International's focus...
Annapolis, Maryland (PRWEB) September 28, 2016
The BOMI International Board of Trustees announced that Nicholas E. Stolatis, RPA®, CPM®, LEED-AP has been elected as a trustee. Nicholas most recently served as Senior Director-Global Sustainability and Enterprise Initiatives at TIAA, a position he held since 2007. In this role, he created the award-winning Global Real Estate Sustainability Initiative, which generated over $100,000,000 in savings through improved energy efficiency.
Nicholas is a member of the Building Owners and Managers Association (BOMA) and the Institute of Real Estate Management (IREM), and he is a past president and current treasurer of the Greater New York chapter of IREM. He facilitates the IREM Ethics course, helped to develop the IREM Sustainable Management course, and is a contributing author for BOMI International's Asset Management course and High-Performance Sustainable Buildings program (BOMI-HP™).
"Nick is a great addition to our team," said BOMI International President and CEO Jeffrey A. Horn. "His years of experience, especially with regard to high-performance buildings and sustainability, are an excellent match with where BOMI International's focus is right now."
Nicholas has presented at many conferences on topics such as sustainability, resiliency, and best management practices. He is also one of only 18 global subject matter experts serving on the International Property Measurement Standards Coalition's Standards Setting Committee.
About BOMI International
BOMI International, a non-profit educational organization founded in 1970, provides critical education and expertise to industry personnel with property, facility, and building systems management responsibilities. As the Independent Institute for Property and Facility Management Education, BOMI International delivers courses, certificate programs, and industry-standard designations—Real Property Administrator (RPA®), Facilities Management Administrator (FMA®), Systems Maintenance Administrator (SMA®), and Systems Maintenance Technician (SMT®), as well as the new High-Performance Sustainable Buildings Program (BOMI-HP™)—with a proven record of increasing job performance and company efficiency. More than 27,000 industry professionals hold one or more BOMI International designations, and over 90,000 property and facility management professionals have turned to BOMI International for their continuing education, professional development, and staff training needs. To learn more, please visit http://www.bomi.org, call 1.800.235.BOMI (2664), or e-mail service(at)bomi(dot)org.
Media Contact
Heith B. Hart
BOMI International
Marketing and Communications Coordinator
410.974.1410 x1257 | hhart(at)bomi(dot)org