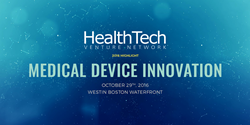 "We believe healthcare is poised for disruption"
Boston, MA (PRWEB) September 28, 2016
The HealthTech Venture Network (HTVN) is proud to host its Third Annual Conference in Boston, the hub of healthcare, on Saturday morning, October 29th 2016 at the Westin Waterfront Hotel. The event is scheduled from 7am – 1pm and aims to bring together industry leaders, healthcare providers, entrepreneurs, investors and students for value-added discussions to examine how emerging startups and established healthcare players can collaborate to drive innovative change in our healthcare system.
The HealthTech Venture Network's ELEVATE competition, also in its third year, will allow entrepreneurs to pitch their ideas to a panel of industry experts and conference attendees to gain feedback, mentorship, and potential funding.
This year's conference will highlight medical technology innovation, featuring Dr. Kingsley Chin, Investment Fund Manager of KICVentures. KICVentures is a sponsor of this year's HTVN Conference 2016. "We believe healthcare is poised for disruption and the global demand for healthcare will grow virtually inelastic as a non-discretionary spend. We've seen tremendous growth in the areas of digital health in 2016 and remain interested in the areas of big data analytics, fitness, and wearables," says Aditya Humad, Managing Partner of KICVentures.
Everyone interested in the future of health tech and medical device technology is encouraged to attend. Visit the EVENTBRITE Page to get your tickets!
Connect with the Network by liking them on Facebook, and following them on Twitter.
Potential ELEVATE competitors can visit htvnc.com to learn more about the requirements for presenting their innovation or product. Limited sponsorship and exhibitor opportunities are available and can be reserved by contacting Jessica Morgan (contact(at)htvn(dot)com)