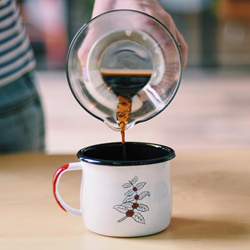 Saturday, October 1st, marks the first time customers will be able to taste the Golden Bean espresso to celebrate International Coffee Day.
Los Angeles, CA (PRWEB) September 28, 2016
Fresh off their Golden Bean championship, Klatch Coffee is revving up for National Coffee Day on Thursday, September 29 and International Coffee Day on Saturday, October 1. The highlight of these celebrations is Saturday marks the first time customers will be able to taste the winning Golden Bean espresso.
On National Coffee Day, all three retail stores will have a schedule of specials for customers to take advantage of. The schedule is as follows:

6A – 9A: Free Sidecar (a shot of espresso on the side of your favorite espresso drink)
10A – 1P: 50% off Capp on Tap
2P – 5P: Free traditional cappuccino with purchase
6P – 9P: 50% off Brubar
On International Coffee Day customers will travel to Klatch Coffee's three Southern California locations to have their passports punched and earn great prizes. All day, customers will enjoy $2 shots of espresso, $3 Brubar specials, and $4 Perfect Pairs (a cup of coffee served with a shot of espresso). Customers who try all four espressos can choose their favorite and receive 50% off a 12oz bag of espresso while customers who try any four featured coffees will receive 50% off on a 12oz bag of their favorite coffee of the day. Those who are truly dedicated and try all four espressos and eight coffees will receive a free bag of Geisha coffee.
National and International Coffee Day recognize one of the world's largest markets and offers an opportunity to celebrate with great coffee and conversation. Owner and General Manager, Holly Perry says, "It is by far our favorite holiday, we get to celebrate all things coffee!"
These special events are being offered at their retail locations in Ontario, Rancho Cucamonga, and San Dimas.
About Klatch Coffee:
Klatch is an award-winning and renowned specialty coffee company and roaster in Southern California. Since 1993, Klatch has been searching around the world for the finest coffee, sourcing via a Direct Trade model and buying only the top 1% of beans available. Mike Perry, Roastmaster, blends a background in chemical engineering with a love for great coffee to balance science and artistry in achieving the perfect cup. Awards for Klatch include being named 'Micro Coffee Roaster of the Year' by Roast Magazine. In addition, Klatch's WBC espresso blend is the only espresso ever awarded "Best Espresso in the World" at the World Barista Championships. Coffee Review, the world's leading coffee guide, has awarded over 80% of Klatch coffees with a score of 90 points or above. Besides great coffee, Klatch is home to Two-Time United States Barista Champion Heather Perry who finished 2nd in the world.
To learn more about Klatch Coffee and/or purchase Award-Winning Coffee, visit http://www.KlatchRoasting.com. Klatch Fans can find the latest and up-to-date news and discounts on Facebook @KlatchCoffee and Twitter @KlatchRoasting.