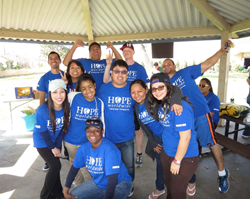 This has helped us maximize our outreach efforts in letting people know about the urgent need for more adoptive families," said Sari Grant, Recruitment Administrator, L.A. County D.C.F.S
Los Angeles, California (PRWEB) September 28, 2016
In a call to answer a plea that is outlined in the bible, (James 1:27) "to look after the needs of widows and orphans," The Los Angeles International Churches of Christ "LAICC" have taken giant steps in teaming up with the Southern California Chapter of HOPE worldwide, a non profit organization as well as a variety of Foster Care support agencies, to increase awareness of children in need of permanent homes through the Increasing the Odds initiative.
With the generous assistance of the LAICC, The Southern California Chapter of HOPE worldwide has approximately 6,000 volunteers who lend a hand to thousands of low-income families and individuals throughout Los Angeles, Orange, San Bernardino & parts of Ventura County. Volunteers also provide financial support to a variety of HOPE worldwide outreach programs around the world.
Since 2013, KTTV (Los Angeles FOX Affiliate) Wednesdays Child has aired during Sunday Worship Services in many of the LAICC ministries, prompting congregations to pray for the children to be adopted. Some of the members, such as David and Robbie Miles, decided to become foster parents while volunteering with the HOPE Driving Program. "Listening to them share about their hopes of having a family 'this time' during the ride to the fair and seeing the smiles on their faces as they played and interacted with potential families and other children seemed to melt our hearts," said Robbie Miles. The Miles's were introduced to a pregnant woman who was searching for a home for her soon-to-be born son; that was the beginning of their journey with David.
"We are the proud parents of an amazing, perfect and beautiful in every way little boy…David is 3 now and he is our little Miracle from heaven…he is evidence of Gods unconditional love come to life. God hears our prayers and answers in ways you could never imagine." The Miles are not along. Other LAICC members have also recently become proud parents though adoption.
DCFS also recognized the impact that the LAICC have on this vulnerable population. "The 'Increasing the Odds' initiative… has increased the number of people that view the Wednesday's Child segments. This has helped us maximize our outreach efforts in letting people know about the urgent need for more adoptive families," said Sari Grant, Recruitment Administrator, L.A. County D.C.F.S., Adoption and Permanency Resources.
To find more information about The Los Angeles International Churches of Christ visit (LAICC)
To learn more about additional efforts and ways your church or community can help by getting involved visit Hope worldwide Southern California Chapter's 2016 Brochure
###