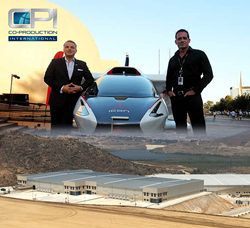 ICON is currently searching for top talent nationally, including manufacturing engineers, industrial engineers, and composite specialists experienced with sophisticated parts, as well as key players for support functions like HR, Materials and Finance
Tijuana, Baja California (PRWEB) September 28, 2016
Co-Production International (CPI) announces the start of hiring for ICON Aircraft's job openings in Tijuana for its new 300,000 square foot facility opening this November. ICON Aircraft, a ten-year old amphibious sport plane manufacturer based in Vacaville, California, recently announced that it will manufacture composite airframe components for its A5 aircraft in Mexico. The expansion of operations is expected to generate approximately $150 million in economic impact in the area over the next ten years and more than 1,000 new jobs over the next three years.
"ICON is currently searching for top talent nationally, including manufacturing engineers, industrial engineers, and composite specialists experienced with sophisticated parts, as well as key players for support functions like HR, Materials and Finance. Most of the professional staff will be Mexican hired. The early hires will be bilingual since they are expected to work with their counterparts in our US assembly facility," said Thomas Wieners, ICON's VP of Manufacturing.
As ICON's shelter services provider in Mexico, Co-production International, has ramped up recruitment efforts in order to fill these key roles. With over 35 years combined experience in the region, CPI's expertise and ability to handle the accelerated timeline led to ICON electing to work with CPI in their expansion. ICON initially considered the Mexican cities of Tijuana, Mexicali, and Juarez, ultimately choosing Tijuana due to "The strong pool of talent, industrial infrastructure, and proximity to our California headquarters," Wieners adds.
Already home to major aerospace players such as Gulfstream, Lockheed Martin, Honeywell, Eaton and UTC Aerospace Systems, Tijuana is Mexico's leading aerospace manufacturing hub. The northern border city boasts the highest concentration of aerospace and defense operations in the country and over fifty years' experience in the high tech processes demanded by the aerospace manufacturing industry.
"ICON is committed to being an employer of choice in Baja California. Additionally, ICON will leverage this location to develop Mexican business partners and qualified suppliers for other aircraft components." Wieners said. "The manufacturing processes include composite layup, bonding, bodywork, and paint, working mostly with pre-preg carbon fiber. We will hire a few dozen direct labor this year. The initial direct labor hires will have some composite production experience and will be further trained in ICON's production methods and quality standards. These initial composite operators will provide leadership and training as we grow the direct labor force to over 1,000 at this facility."
ICON's long term vision is to democratize personal flight by combining world-class engineering and award-winning product design. The company joins more than 80 companies and a 28,000 strong workforce in the Mexican state of Baja California and is expected to shine in a region known for its strength in aerospace manufacturing. Applicants interested in this opportunity are encouraged to contact CPI directly or visit: http://www.buscoempleo.mx
###
Co-Production International is an administrative services provider located in San Diego, CA, offering successful business expansion solutions, shelter company services, day-to-day administrative duties, site selection, and the complete set-up of your operation in Mexico. For more information, or if you are interested in a cost analysis for expanding your operations to Mexico, visit http://www.co-production.net or call (619) 429 4344