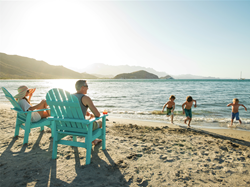 Villa del Palmar at the Islands of Loreto is the perfect destination for those seeking an impeccable Mexican getaway. - Owen Perry, co-owner and president of Villa Group
Islands of Loreto, Baja California Sur, Mexico (PRWEB) October 07, 2016
This fall, Villa del Palmar at the Islands of Loreto invites travelers to experience an authentic Mexican getaway in Loreto for an unbeatable price with the "Wonderfall Super Sale." Located in Baja California, this warm weather destination provides a backdrop of fascinating history, is surrounded by breathtaking natural beauty, and offers visitors more intimacy and seclusion than many of the highly traveled tourist locations in the regions.
Under the terms of the "Wonderfall Super Sale," guests who book travel before October 16, 2016 will save 45 percent on their resort stay at Villa del Palmar at the Islands of Loreto and receive $500 USD in resort credit to be used during their stay. This promotion is available on both European and All Inclusive rates. Travel must be complete before December 20, 2016.
When it comes to luxury and comfort, Villa del Palmar at the Islands of Loreto is a beachside resort situated between the beautiful indigo coastline of the Sea of Cortez and the marvelous Sierra de la Giganta mountain range. From adventure-seeking honeymooners or leisure-seeking family reunion groups – a vacation at Villa del Palmar at the Islands of Loreto offers something for everyone.
In addition to its stunning natural beauty, one of the most attractive things about Villa del Palmar at the Islands of Loreto is its proximity to Los Angeles International Airport. It's a short, two-hour nonstop flight from LAX to Loreto International Airport. It's even closer for travelers who wish to depart from the San Diego area via the Tijuana Airport (TIJ). The new Cross Border Xpress, or CBX, opened in December 2015 and offers a secure, convenient pedestrian skybridge that connects ticketed passengers directly from a terminal in San Diego to the departure area of TIJ. From there, it is a 1 hour and 45 minute flight to Loreto International Airport.
"Villa del Palmar at the Islands of Loreto is the perfect destination for those seeking an impeccable Mexican getaway," said Owen Perry, co-owner and president of the Villa Group. "Loreto has a population of 7,000 people and the resort property sits on a secluded bay with 24-hour security. Whether you're looking for a carefree vacation, laying on the beach with a margarita in hand or a more active trip diving among the underwater cliffs in the 'Aquarium of the World,' the resort offers something for all guests."
With 181 beautifully appointed Deluxe Ocean View Suites ranging in size from one, two or three bedrooms, these accommodations are far more spacious than typical hotel rooms, and can accommodate up to ten guests in one unit. Every suite has a balcony or terrace with stunning water or mountain views. Designed for the needs of the modern traveler, suites feature home-away-from-home comforts, including full kitchens that make cooking meals easy. Alternatively, guests can taste the flavor of authentic cuisine, unique to the Baja region, through the resort's three outstanding restaurants, one of which was recognized with a 2016 Award of Excellence by Wine Spectator for its impressive wine list.
The Islands of Loreto boasts more than 100 miles of coastline, 300 sunny days a year and year-round temperatures averaging in the 80s.
Guests can take to the crystal clear water of the Sea of Cortez, a United Nation's World Heritage Site and named by Jacques Cousteau as "the aquarium of the world." Explore this underwater home to nearly 1,000 species of fish and marine life through paddle boarding, whale watching tours, Hooka diving, kayaking, SCUBA diving and other sea excursions.
Visitors can also enjoy the rich history of Loreto through mission excursions, such as the San Javier Mission Excursion. This unique, three-hour expedition takes guests to the top of the mountains, into wall-painted caves and deep within the city.
Guests can recharge with the help of revitalizing treatments and tantalizing facials at the resort's 39,000-square-foot Sábila Spa. Yoga classes and a state-of-the-art fitness center are also available to visitors interested in a more wellness-focused retreat.
Other resort offerings include glamping (or "glamorous camping") in a luxurious, beachfront Danzante Bungalow, world-class fishing aboard the Mad Dash tournament boat, and golfing on Villa del Palmar at the Island of Loreto's new 7,000-yard Danzante Bay Golf Course. Designed by Rees Jones, a world-renowned golf architect often referred to as the "The Open Doctor," the Danzante Bay Golf Course is a true rarity, featuring a mix of stunning views and luscious green holes, including the breathtaking Hole 17, which Jones has praised as one of the best in the world.
For resort reservations or additional information on the "Wonderfall Super Sale" or upcoming promotions and packages, please contact the resort at reservaciones.vdpl@vgloreto.com or call 800.790.4187. To learn more about Villa del Palmar, contact your preferred travel professional, visit http://www.villadelpalmarloreto.com or call the number above.
About Villa del Palmar at the Islands of Loreto: Baja's First Million Star Resort
Villa del Palmar at The Islands of Loreto is a luxury destination resort on the Sea of Cortez, off the eastern coast of the Baja peninsula overlooking Danzante Island (one of five in the region). Flanked by the rugged Sierra de la Giganta range, the Villa del Palmar is the first and only resort to occupy one of the Gulf of California's last virgin coastlines. The resort features 181 new, spacious, beautifully appointed Deluxe Ocean View, one, two and three bedroom Suites with terraces and stunning ocean and mountain views, three restaurants offering gourmet dining, an attentive English-speaking staff, five swimming pools, a 39,000 square-foot Sábila Spa and Wellness Center, two tennis courts, beautiful beaches, a private beachfront Danzante Bungalow and a mild and warm climate year-round. The 7,000-yard Rees Jones-designed Danzante Bay golf course will offer a challenging, yet friendly course that works with the natural beauty and serenity of the surrounding environment.
Guests can enjoy PADI-certified SCUBA diving lessons and snorkeling tours in the protected indigo waters that explorer Jacques Cousteau once dubbed the "Aquarium of the World." Outdoor adventurers can also experience tours of the nearby Coronado, Danzante and Del Carmen Islands atop an inflatable APEX boat, as well as swimming, world-class fishing aboard the "Mad Dash" tournament boat, paddle boarding, kayaking, whale watching and mountain biking. With shuttle service priced at $5 per person round trip, guests can explore the historic town at the Islands of Loreto and visit the 1697 mission that made the town famous. The area is also known for its wildlife, including the 900 species of fish off the coast and in an area that has been designated a UNESCO World Heritage Site and the second largest National Marine Park. Hotel perks include a spa and fitness center, massages, salsa dance lessons and movie nights for children. There are an increasing number of airlines and flights to the Islands of Loreto, including flights from LAX on Alaska Airlines, using the secure, convenient Cross Border Xpress to access flights from Tijuana International Airport on Aero Calafia, or traveling from Calgary, Canada aboard WestJet, Canada's most-preferred airline.
The resort is also currently named the 16th best resort in Mexico by Trip Advisor. In 2015, Travel Weekly magazine recognized the Islands of Loreto with a 2015 Silver Magellan Award in the Adventure Destination category. Villa del Palmar at the Islands of Loreto was also recognized as Mexico's Leading Beach Resort in the 22nd annual World Travel Awards.
For additional information on events, amenities, or availability call 800.790.4187 or visit http://www.villadelpalmarloreto.com. Stay up-to-date on the latest happenings by finding us on Facebook (https://www.facebook.com/villadelpalmarattheislandsofloreto/) or Instagram, Pinterest and Twitter as @VilladelPalmarL.
###