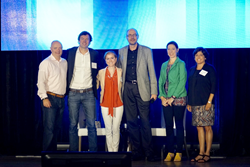 "We thought the solution that Florence has developed can make a difference and free up time for investigators, giving them more time to work with patients," said DPharm Idol judge Andreas Koester, MD, PhD.
Boston, MA (PRWEB) September 29, 2016
Florence Healthcare, an Atlanta-based provider of a software-as-a-service (SaaS) clinical trial document management platform, won the DPharm Idol competition at the 6th annual DPharm: Disruptive Innovations to Advance Clinical Trials conference in Boston.
Florence's eBinder Suite simplifies clinical trial document management, enabling clinical trial sites to store and manage paper files in the cloud and automates some of the most time consuming manual processes for both the site and the pharmaceutical sponsor. It also helps clinical investigators reduce paperwork and deliver improved patient care.
Inspired by the compassion of Florence Nightingale, the mother of modern nursing, Florence embodies the ideals of empathy, reliability and consistency. Florence was founded by Andres Garcia (CTO), Mike Kassin, MD (CMO), and Ryan Jones (CEO), who previously held positions at Microsoft SharePoint, Pubget and BCG
DPharm Idol promotes innovation in clinical trials, encouraging participating companies to showcase what they believe to be a disruptive clinical trial service or technology. Each DPharm Idol participant receives less than 10 minutes to highlight its clinical trial service or technology, followed by a brief Q&A session with a panel of judges.
In addition to Florence, this year's DPharm Idol participants included:
Optimal Strategix Group (OSG)
N-of-One
HealthVerity
4G Clinical
TriNetX
Also, this year's DPharm Idol judges included:
Laura Galuchie Head, Clinical Performance, Analysis & Innovation, Merck Research Laboratories
Julian Jenkins, PhD VP, Innovation Performance & Technology, GSK
Andreas Koester, MD, PhD VP, Innovation R&D Operations, Janssen
Sarah Krüg CEO, Cancer 101 and President, Society of Participatory Medicine
Stephanie Petrone Executive Director, Medical Operations, Novartis Oncology
Chandra Ramanathan, PhD, MBA VP and Head, East Coast Innovation Center, Bayer HealthCare
Jane Rhodes, MBA, PhD Senior Director of New Initiatives, Biogen Idec
Darshan Shah Director Global Products, Global Medicines Director, AstraZeneca
Katherine Vandebelt Global Head, Clinical Innovation, Eli Lilly & Company
About Florence Healthcare
Florence Healthcare emphasizes bringing compassion to clinical trial software. The Florence eBinder Suite is designed to replace an electronic master file system with cloud-based file storage and management to accelerate clinical trials. For more information, please visit http://florencehc.com/.
About the DPharm Conference
DPharm: Disruptive Innovations to Advance Clinical Trials is the only annual event focused on disruptive ideas to advance clinical trials. The 6th annual program took place Sept. 20th and 21st at the Fairmont Copley Plaza Hotel in Boston. For more information, please visit http://theconferenceforum.org/.