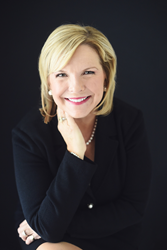 We need women who are confident and comfortable mastering negotiation skills, asking for a raise, asking to be considered for a position, and strategically connecting the dots to a board seat and increasing your circle of influence.
Harrisburg, Pennsylvania (PRWEB) September 28, 2016
Patricia A. Husic, President and CEO of Centric Bank, will speak at the 2016 Women in Banking Leadership Symposium, co-hosted by the South Carolina and North Carolina Bankers Associations. The third annual conference will be held Wednesday, September 28, through Thursday, September 29, at the Omni Hotel in Charlotte, North Carolina.
Husic is one of 14 in an impressive lineup of accomplished businesswomen who will present during the two-day event. She will tell the story of My Path to CEO: The Importance of Making the Ask.
"We need women who are confident and comfortable mastering negotiation skills, asking for a raise, asking to be considered for a position, and strategically connecting the dots to a board seat and increasing your circle of influence. When you 'make the ask' and bet on yourself, be confident enough to expect that people in power will help you advance," says Husic, recognized this week as one of the 25 Most Powerful Women in U.S. Banking by American Banker.
"As the founder of the PA Bankers Association Women in Banking Conference, I am thrilled to connect with women in banking in the Carolinas. Networking with aspiring women in finance, setting actionable goals for our career advancement, and understanding how to make the ask are critical to increasing the number of women in bank C-suites, in executive management, and at board tables. I know from personal experience that sharing our paths to executive leadership opens opportunities for other women to follow our lead. We will see the numbers change when we are intentional in 'making the ask,'" Husic says.
The Women in Banking Leadership Symposium will broaden attendees' awareness and knowledge on key industry issues, inspire and empower from stories of success and experience, and offer business networking opportunities with key peers from across various states.
"Through attendance at the 3rd Annual Women in Banking Leadership Symposium, female banking leaders will glean a great deal of useful information not just about banking and business, but about overcoming obstacles beyond the corporate world," says SCBA Senior Vice President E. Anne Gillespie. "In addition, there are many networking opportunities to meet new people and reconnect with old friends. We are delighted to have Patti Husic with us to share her banking journey and career path."
ABOUT PATRICIA A. HUSIC
Husic was one of the founders of Centric Financial Corporation and Centric Bank and led the turnaround and growth of the financial institution to over $455 million in assets at the end of Q2 2016 with record profits and growth in 2015.
Husic is past chair of the Pennsylvania Bankers Association, and only the third female chair in the Association's 122-year history. She is also the founder of the Women in Banking initiative for PBA and served as its chair for three years. An ambassador for small business and women in business, Husic has been twice honored with a ranking on American Banker's 25 Most Powerful Women in U.S. Banking in 2015 and 2016 and previously was honored by American Banker as a Women to Watch for three years.
She currently serves on the board of Holy Spirit Hospital, on the Communications Council for the American Bankers Association, and as Chair of the American Heart Association Central Pennsylvania's Go Red Campaign, helping to launch its new #CentricRedCouch series. A champion for increasing the voice of women in banking and women at board tables, Husic is a valued mentor and sponsor for the next generation of leaders.
ABOUT CENTRIC BANK
A three-time Best Places to Work and Top 50 Fastest-Growing Companies for four years, Centric Bank is headquartered in south central Pennsylvania with assets of $455 million and remains the leader in organic loan growth in central Pennsylvania. A locally owned, locally loaned community bank, Centric Bank provides highly competitive and pro-growth core financial services to businesses, agribusinesses, professionals, individuals, and families. Centric Bank's specializes in niche markets, and its Flagship, Doctor Centric Bank, leads the market in our concierge approach to financing the medical community. Centric Bank is an award winning institution, and has been awarded a Five-Star Bauer Financial Rating. Centric is also the #1 Lender in the Pennsylvania Eastern District for approved SBA 7(a) loans, which comprises 40 out of the 67 counties in the Commonwealth, as of August 31, 2016, and a Top 10 Lender for SBA Loans in the Philadelphia Region. Centric Bank has a 100% close rate on these SBA 7(a) loans.
Founded in February 2007, Pennsylvania-based Centric Bank has financial centers located in Harrisburg, Hershey, Mechanicsburg, and Camp Hill, and loan production offices in Suburban Philadelphia and Lancaster. To learn more about Centric Bank, call 717.657.7727 or visit their website at http://www.CentricBank.com. Connect with them on Twitter at @CentricBank and Facebook at Centric Bank.
Centric Financial Corporation is traded over the counter (OTC-Pink) - CFCX.
###