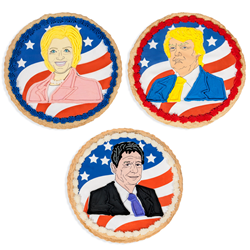 Many Americans don't know what they'll ultimately do on election day. That's why we're hoping to offer weary voters a fun distraction, making their experience sweeter.
Kingston, NH (PRWEB) September 28, 2016
The 2016 U.S. Presidential Election has been widely depicted as the harshest, most-uncivilized political contest in generations. Candidates call each other names, accuse each other of outlandish behavior, claim opponents are emotionally unfit to run the country, and even condemn their rival's supporters. Attempting to help America move beyond this unsavory election year atmosphere, New Hampshire-based online retailer GourmetGiftBaskets.com is launching its own Presidential Cookie Cake Campaign today to sweeten the deal for the electorate.
This more "tasteful" election, which includes the company's own versions of the Electoral College and the popular vote, invites members of the public to voice their choice among a new line of original Presidential Cookie Cakes. Each 10-inch sugar cookie cake features its own frosting caricature of Democrat Hillary Clinton, Republican Donald Trump or Libertarian Gary Johnson.
"Many Americans don't know what they'll ultimately do on election day," said Jason Bergeron, Vice President of Sales and Marketing for GourmetGiftBaskets.com. "That's why we're hoping to offer weary voters a fun distraction, making their experience sweeter as they brace themselves for Election Day on November 8th."
For GourmetGiftBaskets.com's Electoral College, companies in all 50 states have jumped at the chance to conduct special Presidential Cookie Cake polls in their offices. In each case, three different cookie cakes will be placed on a table and employees will be encouraged to quickly take a slice of the cake they prefer. The first Presidential Cookie Cake to be devoured will be declared the winner of that state.
Statistics from all participating companies coast-to-coast will be collected and analyzed. Ultimately, the results from these hands-on Electoral College cookie polls will give a glimpse of which states and regions support Trump, Johnson, or Clinton.
Meanwhile, to determine which Presidential Cookie Cake will be the favorite among the majority of Americans, GourmetGiftBaskets.com has just established a central, public "polling place" on its site, which will tally the popular vote.
The public will be directed to the polling page via the site's social media outlets: Facebook, Twitter, Instagram and Pinterest and a few email campaigns, as well.
The online retailer of upscale food gifts hopes to reveal all voting results on "Cookie Tuesday," November 1st.
To participate in the general polling, please go to the polling place to vote.
If you're interested in ordering your own Presidential Cookie Cake or sending one to a friend, loved one, or even someone who disagrees with your political views, please go here. Each cake is only $34.99 and ships for free.
Finally, if you're planning an election night party and want to order all three cookie cakes to stage your own mini-elections, you can purchase them together for just $79.99 with free shipping (a savings of nearly $25).
Stay tuned for exciting updates as the GourmetGiftBaskets.com election rolls out over the next few weeks.
###
Media Contact: Chuck Casto, chuckcasto(at)gmail(dot)com, 508-314-3284.
Disclaimer: GourmetGiftBaskets.com, its partners, vendors and subsidiaries are not affiliated with, sanctioned by, or endorsing any candidate. This Presidential Cookie Campaign and the associated polling are strictly being done for fun.
GourmetGiftBaskets.com was founded with family values and the desire to provide exceptional gifts for all of life's special occasions. What began with two family members in the basement of a flower shop has exploded into a multi-million-dollar company recognized multiple times by Inc. 500, Internet Retailer, Enterprise Bank, and more, while still remaining true to its core values of exceptional gourmet ingredients handcrafted with care. The company has built its reputation on the quality, beauty, and diversity of its offerings along with service that includes same-day delivery of some gift baskets.