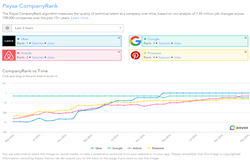 The migration of top performing technical and engineering talent are arguably one of the strongest signals of a company's health.
PALO ALTO, CA (PRWEB) September 28, 2016
Paysa, the only platform that uses artificial intelligence to deliver personalized career and hiring recommendations plus real-world salary insights, today released new research. This latest study reveals 100 highest ranking companies, which have experienced the greatest success in hiring and retaining top technical and engineering talent over the past six months.
The study is especially timely since the war for top talent, especially in high demand fields like technology and engineering, continues to be fierce. According to a Bureau of Labor Jobs Openings and Labor Turnover (JOLT) survey released earlier this month, the number of available jobs increased to 5.9 million in July 2016 -- up one million from the same time last year. Hires and separations were little changed at 5.2 million and 4.9 million, respectively, suggesting that the skills gap overall is widening.
To conduct the study, Paysa used its CompanyRank technology, a machine learning algorithm that aggregates and analyzes resumes, job postings and social activity -- nearly 8 million points of data -- across nearly 200,000 companies over the past 10 years. Paysa's CompanyRank interactive tool, available on the Paysa website, also uses this technology. Employees, job seekers, investors and partners can use the tool to gauge the health of a particular company or see how it's performing against other companies over time.
To create the recent findings, Paysa tracked changes from the first half of 2015 to the first half of 2016.
Companies analyzed as part of this research included those with 100 employees or more, ranging from Silicon Valley tech standouts like Google, Pinterest, DropBox, Uber, Airbnb and Tesla Motors, to blue-chip businesses like Walmart, General Motors, American Airlines and Target.
The data, in its entirety, reflecting the complete set of findings, is now available.
Key Findings Include:

The top 10 companies among the top 100 top ranking companies that have climbed the most in the last six months in regards to recruiting and retaining top tech talent include Lyft, Snapchat, Lending Club, Veritas Technologies, Expedia, Tesla Motors, Okta, Inc., Cox Automotive, Docker and Stripe.
Companies that made it into the top 20 included Credit Karma, Zulily, Braintree and Twilio.
The companies that saw the greatest flight of technology and engineering professionals include Twitter, Box, Scentsy, Nimble Storage and Groupon, with their employees going to a wide range of startups and established companies like Google, FitBit, Uber, Airbnb, Lyft, Pinterest, Pure Storage, Facebook, Stripe, Amazon and Salesforce.
The biggest turnarounds: companies such as Netflix, Adobe, Hulu and Capital One had rankings that fell and then bounced back the most.
"Future financial health and success depends upon how well you manage your investment portfolio today -- how you look at a particular company's buy and sell ratings before you decide where to place your bet," said Chris Bolte, CEO of Paysa. "Similarly, making important career and job transition decisions requires reliable insight, based on performance indicators, for the greatest chance at opportunity and salary advancement. That's why it's so important to pay attention to the migration of top performing technical and engineering talent, arguably one of the strongest signals of a company's health."
"On the flip side, businesses must understand how talent flows –- where most of their new hires are coming from -- so they can better forecast and get an edge on expansion," added Bolte. "Growing companies hire talent from larger companies, but this type of transformation doesn't happen overnight."
More About Paysa's CompanyRank Technology
Paysa's CompanyRank uses a proprietary machine learning algorithm to track the network-wide retention and flux of tech workers over time. If a company continues to hire from high quality companies, their score will increase. If a company loses in hiring people from top companies, or starts hiring from lesser quality companies, their score, and relative ranking, will decrease.
Paysa insights and CompanyRank bring data and clarity to career decisions, from what tech professionals should be making and how they can increase their value, to understanding the depth of their current team – or one they're considering joining. Professionals can understand how their current or a prospective employer stacks up against competitors for top tech talent, enabling them to make more informed career decisions, whether they are up for a promotion or evaluating a new opportunity. Job seekers can easily see which companies are acquiring and retaining top technology talent, and which companies are losing their best tech workers.
CompanyRank can also help investors, partners and organizations themselves gain unique insights into the health of a company's tech workforce, and make decisions accordingly.
About Paysa
Paysa offers personalized career and hiring recommendations plus real-world salary insights for maximizing opportunity, earning potential and value at all stages of an individual's career. Using proprietary artificial intelligence technology and machine learning algorithms, Paysa analyzes millions of data points including jobs, resumes and compensation information, providing professionals with actionable tools, insights, and research. They can then see and understand their individual worth in the market today, and how to increase their value. Paysa also empowers enterprises with the knowledge they need to be competitive in today's fierce tech hiring market. Employers can learn which skills, real-world company experience and educational background offers the greatest predictor of a candidate or employee's future success at their organization.
# # #
Media Contact
Andrea Corry for Paysa
TopMind PR
andrea(at)topmindpr(dot)com
(925) 640-5482