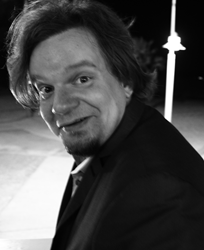 (PRWEB) September 28, 2016
Ismo, http://www.ismoleikola.com/en, winner of the "Funniest Person in the World" award, will perform at the Laugh Factory http://www.laughfactory.com/ in Hollywood on Monday, October 17, 2016, at 8pm for a major entertainment industry showcase.
Revered as "an oddball with a few extra twists," Ismo has been performing all over the world. In 2014, Ismo managed to win the hearts of millions of viewers, competing against comedians from 32 different countries and earning him the title, "Funniest Person in the World."
"Winning the title was such a huge opportunity for me. It opened up two great things - America and the world. I've now toured literally around the world and recently moved from Finland to Los Angeles," says Ismo.
He is currently located in California, where he is a regular at the Hollywood Laugh Factory. His standup routine is unique, with a disarming presence and sharp punch lines. Although English is his second language, Ismo manages to be uncannily incisive, charismatic and entertaining.
"Ismo's continued success around the world demonstrates the international bond and universal appeal people of all ages, races, and nationalities, can experience through humor," says Jamie Masada, the Founding Owner of the Hollywood based franchise, The Laugh Factory.
His performance at the Laugh Factory on Monday, October 17th at 8pm will be followed by an artist's reception.