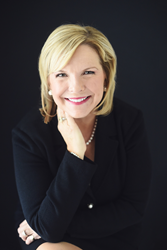 The selection committee was impressed by Patti's focus on not only ushering more women into the C-suite but on capturing and retaining the Millennial generation.
Harrisburg, Pennsylvania (PRWEB) September 29, 2016
Centric Bank President & CEO Patricia (Patti) A. Husic has been selected by American Banker as one of The 25 Most Powerful Women in Banking in 2016 for the second consecutive year. Chosen from hundreds of banking executives, she ascended from her 2015 ranking of #19 on the Most Powerful Women in Banking list.
"Lots of people have ideas that never come to fruition. But Patti is so determined and persistent I doubt whether she has ever experienced that. From recapitalizing a struggling bank to starting a banking conference for women, she has demonstrated the kind of leadership that provides inspiration for anyone facing a challenge – not just bankers and not just women," says American Banker Executive Editor Bonnie McGeer.
This annual ranking recognizes women for their impact on their company, the financial industry, and community at large, as well as for their leadership skills and innovation in the face of professional challenges.
Only two women lead U.S. banks over $10B, and female bank founders are few and far between. Patti Husic founded Centric Bank on the idea that community banking is the difference maker for a region's economy—it drives all aspects of healthy communities. Known for her pioneering spirit, Patti presented her idea, strategy, and entrepreneurial zeal to a handful of local leaders. The spark lit and 9 years later, Centric Bank has 86 employees, an expanded footprint, two successful capital raises—the most recent one oversubscribed not once but twice in 30 days—and two entirely new service areas, Doctor Centric Bank and Food Centric.
"The selection committee was impressed by Patti's focus on not only ushering more women into the C-suite but on capturing and retaining the Millennial generation," says McGeer. "We congratulate Patti for earning her fifth designation on American Banker's ranking and her second recognition as a Most Powerful Women in Banking."
"I'm honored to join such esteemed leaders of the world's most powerful banks and to encourage women at every career level in banking to see themselves in the upper echelons of financial institutions. The women of this ranking open doors to the C-suite and to the board table for women," says Patti. "There are only 2 female CEOs at our top 100 banks with over $10 billion in assets. For U.S. corporate boards, women have stalled at 19% representation. The Most Powerful Women in Banking is a game-changer for these statistics, continuing to move the needle from discovery to action."
As 1 of only 13 female bank CEOs in the Commonwealth of Pennsylvania, Patti's leadership and influence send a clear message to younger women in banking and women in business that a C-suite position is attainable. Her tour de force is the third annual Pennsylvania Bankers Association Women in Banking Conference in March in Hershey. More than 215 women from entry level to executive managers gathered to advance the industry and chart a path for career success.
"Patti remains extremely active in working to ensure the Women in Banking (WIB) Conference she initiated while she was Chair of the Pennsylvania Bankers Association (PBA) not only continues, but grows," says McGeer.
Further evidence of Husic's commitment to advancing women in banking, and an exclamation point in her resolve to be a much-needed catalyst, is Centric Bank's inaugural recognition as a Top Teams in American Banker's Most Powerful Women in Banking ranking. "I'm committed to putting our intentions into action and we have produced a powerhouse executive management team that happens to be 60 percent female," says Husic.
"The women in our rankings are truly exceptional leaders," says McGeer, who is also the Chair of American Banker's Women in Banking Editorial Committee.
The complete rankings can be viewed at American Banker's website and are featured in the October issue of American Banker Magazine. The honorees will be celebrated at a dinner and awards ceremony on October 6 at Cipriani, hosted by American Banker and parent company SourceMedia.
About the Most Powerful Women in Banking and Finance
American Banker's Most Powerful Women in Banking recognizes the professional achievements and influence of the top-performing female executives in banking and financial services. The annual program, now in its 14th year, encompasses four lists: the 25 Most Powerful Women in Banking™, the 25 Most Powerful Women in Finance, the 25 Women to Watch, and the Top Teams in Banking. Rankings and details about the awards dinner are available at americanbanker.com/women-in-banking.
About American Banker
American Banker, a SourceMedia brand, is the essential resource for senior executives in banking and financial services, keeping its users updated on vital developments and focusing sharply on their most important concerns. Financial industry professionals turn to American Banker to stay maximally informed and engage with an authoritative community of analysts, practitioners and innovators through opinion content, research reports, social media, and live events. American Banker Magazine is a monthly print publication of American Banker, focusing on the ideas, the people, and the companies that are changing the way bankers do business.
About Centric Bank
A three-time Best Places to Work and Top 50 Fastest-Growing Companies for four years, Centric Bank is headquartered in south central Pennsylvania with assets of $455 million and remains the leader in organic loan growth in central Pennsylvania. A locally owned, locally loaned community bank, Centric Bank provides highly competitive and pro-growth financial services to businesses, professionals, individuals, families, and the health care and agricultural industries. With a Five-Star Bauer Financial Rating, Centric Bank is also ranked #1 in approved SBA 7(a) loans in the Eastern District as of August 31, 2016, which comprises 40 out of 67 counties in the Commonwealth. Centric Bank is also a Top 20 Lender for SBA Loans in the Philadelphia Region.
Founded in 2007, Pennsylvania-based Centric Bank has financial centers located in Harrisburg, Hershey Mechanicsburg, and Camp Hill, and loan production offices in Lancaster and suburban Philadelphia. To learn more about Centric Bank, call 717.657.7727 or visit CentricBank.com. Connect with them on Twitter at @CentricBank and Facebook at Centric Bank.
Centric Financial Corporation is traded over the counter (OTC-Pink) with the ticker symbol CFCX.
###