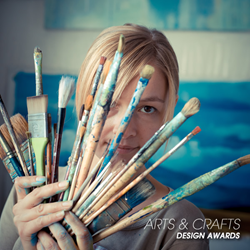 Como, Italy (PRWEB) September 28, 2016
The A' Design Award and Competition announced its last call for entries to the prestigious International Arts, Crafts and Ready-Made Design Awards. The A' Arts and Crafts Design Competition is a freestyle annual, international juried arts & design competition among artists, creators, ready-made designers, sculptors and painters that are looking for worldwide fame and recognition.
The A' International Arts, Crafts and Ready-Made Design competition winners will receive the widest publicity in the design awards field thanks to the extensive visibility and personalized press kits provided to all awarded participants. Designers, artists and craftsmen who demonstrate an excellent level of creativity in the competition would receive an ample coverage through a network of design media, online publications and press releases exclusively prepared for each winning project. Moreover, laureates of the A' International Arts, Crafts and Ready-Made Design Awards will be invited to join A' Design Awards' Gala-Night Ceremony for awarding winners as well as become a part of Exhibition of Awarded Works in Como, Italy.
Nominations to the International Arts and Crafts design competition are accepted online at http://competition.adesignaward.com. After registration and submission, every work will receive a preliminary score hence the projects that have been evaluated positively can proceed with nominations.
Deadline for joining the A' Arts and Crafts Design Awards is on September 30, 2016. Results of the competition will be announced on 15th of April, 2017.
About A' Arts and Crafts Design Awards
The International Arts and Crafts Design Awards, yearly organized by A' Design Awards and Competition, is aimed at celebrating the best of design, arts and crafts worldwide. The award-winning designs are highlighted to the international public through the wide network of design media partners in order to highlight the best works in the artistic and design industry. Learn more at http://www.designaward.com/