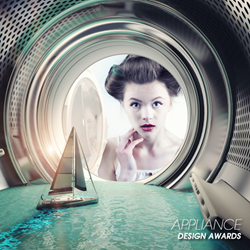 Como, Italy (PRWEB) September 28, 2016
Today, A' Design Award and Competition is accepting submissions of most efficient and innovative home appliances design projects for the International Design Awards 2016-2017.
The International A' Home Appliances Design Awards is an annual event that accept submissions from all over the world both realized project or conceptual designs. Home Appliances and Electrical Home Appliances are subcategories of the A' International Home Appliances Design competition thus products such as air conditioner, dishwasher, clothes dryer, drying cabinet, freezer, refrigerator, kitchen stove, water heater, washing machine, trash compactor, microwave oven, induction cookers, telephones, answering machines and similar items are eligible for nominations.
Entries to the A' Home Appliances Design Awards can be done after registration. Second step of nominating the design is reached by submissions with a high preliminary score. After nomination is complete, all the projects will be peer reviewed and voted on criteria such as innovation, functionality, packaging, maintenance, usage and sustainability.
Deadline for submissions in on September 30, 2016 with the late extended deadline on February 28, 2017. Final list of winners will be announced on April 15, 2017 through the international media partners.
All the A' International Home Appliances Design Awards laureates will receive a unique metal trophy, excellence in design certificate, extensive PR campaign and many other benefits including exclusive invitation to Award Ceremony and Exhibition Opening held in Como, Italy.
Moreover, lifetime license to use the A' Home Appliances Design Awards Winner Logo will be given as a part of the Design Prize for the winners of the International A' Home Appliances Design Award.
About the International Home Appliances Design Award
A' International Home Appliances Design Awards, annually organized by A' Design Award and Competition, is committed to idea of supporting creativity and sustainability of home appliances design projects. The A' Home Appliances Design Awards were especially established to create an incentive for industrial designers and companies worldwide to come up with superior projects that are not only aesthetically attractive but also highly innovative, sustainable and functional. Moreover, the A' Home Appliances Design Awards looking forward to create awareness for good design projects and products by promoting them throughout the wide network of the international media partners. More details on http://www.designaward.com