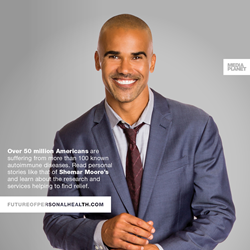 More than 50 million Americans suffer from over 100 known autoimmune diseases.
New York, NY (PRWEB) September 28, 2016
This campaign will advocate for those living with autoimmune diseases like multiple sclerosis, rheumatoid arthritis, juvenile arthritis, Crohn's disease, ulcerative colitis, among others, allowing readers to become part of the change needed to remedy this medical oversight. Additionally, the campaign will highlight available options for those living with autoimmunity.
More than 50 million Americans suffer from over 100 known autoimmune diseases. Because these diseases span across several different medical specialties, there has been virtually no focus on autoimmunity as the underlying cause of these conditions. While many people are aware of MS, Crohn's and colitis, rheumatoid arthritis, etc., most people don't know that autoimmunity ties all of these conditions together. One of the major concerns is that many autoimmune diseases can take years to officially diagnose, which is resulting in more than $100 billion spent in direct health care costs, annually. The millions of people affected by autoimmunity deserve focus, awareness and, more importantly, resources and funding for unified research to fight autoimmune diseases.
The print component of "Autoimmune Diseases" is distributed within today's edition of USA Today in New York, Los Angeles, Chicago and Washington DC, with a circulation of approximately 250,000 copies and an estimated readership of 750,000. The digital component is distributed nationally, through a vast social media strategy, and across a network of top news sites and partner outlets. To explore the digital version of the campaign, click here.
"Criminal Minds" star Shemar Moore graces the cover of the print campaign. Through an exclusive interview with his mother, Marilyn Wilson, the duo opens up about Marilyn's multiple sclerosis diagnosis nearly 18 years ago. "It took a few years for it to be real," Shemar says. "Seeing her not being able to do things like she always could. We didn't know then what interferons were, how MS is different for different people. It's been a slow learning process."
His mother Marilyn is a huge yoga fan, dating back to before her diagnosis. She adds, "Yoga is perfect for setting goals for yourself. But also for setting boundaries. Wherever you're at in that moment is perfect. That's the ultimate goal." Both Shemar and Marilyn continue to keep a positive outlook on life and for the future of MS. "In my lifetime, in my mom's lifetime, I want a cure," sums Shemar.
This campaign was made possible with the support of the American Autoimmune Related Diseases Association, Arthritis Foundation, Crohn's & Colitis Foundation of America, National Alopecia Areata Foundation, IQuity Labs, Mallinckrodt Pharmaceuticals and Medac Pharma.
About Mediaplanet
Mediaplanet is the leading independent publisher of content-marketing campaigns covering a variety of topics and industries. We turn consumer interest into action by providing readers with motivational editorial, pairing it with relevant advertisers and distributing it within top newspapers and online platforms around the world.