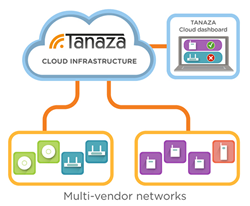 Milan, Italy (PRWEB) October 11, 2016
The latest updates of the Tanaza firmware have expanded the list of devices that the software supports, including more outdoor access points, such Ubiquiti UniFi Outdoor Plus, EnGenius ENH500, Wi-Next Naawigo Dual Radio, D-Link DAP3310, and many more.
According to a study by Markets and Markets, the "Outdoor Wi-Fi [market] is expected to grow at a CAGR of 15.82% between 2013 and 2018," generating approximately $37.2 Billion in 2018. With the growing demand for Wi-Fi in public spaces, the Wi-Fi industry needs a software that can create networks with enterprise-grade functionalities from low-cost outdoor access points. As a result of the broad selection of outdoor APs now being supported by Tanaza, the company can now extend its market share by targeting more clients and businesses in the growing market of outdoor Wi-Fi.
Thus far, Tanaza is working together with Tacira Technologies, a company that uses Wi-Fi to integrate smart services in public spaces throughout Brazil. Tanaza is the key tool that helps Tacira cloud manage and remote monitor its deployments. Tanaza has also worked together with businesses like Carosello 3000, an outdoor ski area that provides free connectivity to skiers to encourage social engagement. With Tanaza, Carosello's Facebook visibility and social following have increased, with tens of thousands of new registrations over the past year. Through its integration with Mailchimp, Tanaza allows Carosello to get in touch with its users during and after their visit to the ski resort via personalized email marketing campaigns.
In 2017, Tanaza will continue developing its firmware for new indoor and outdoor access points, as well as for more dual-band dual-radio and AC devices. Tanaza's expansion from indoor to outdoor deployments gives the company and its partners the opportunity to thrive in unexplored vertical sectors in need for outdoor Wi-Fi and take part in citywide Wi-Fi projects.
About Tanaza https://www.tanaza.com
Tanaza was founded in 2010 by Sebastiano Bertani and has brought to market the first multi-vendor software for cloud-based management of Wi-Fi networks and social hotspots.
Contact: Valeria Magoni - Marketing Manager
valeria(dot)magoni(at)tanaza(dot)com +39 02 8718 8553
Watch Tanaza's Video >>
Visit our website >>
List of Tanaza Powered Access Points and wireless gateways >>