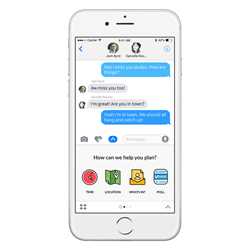 Plan & Poll Together.
CHICAGO, Ill. (PRWEB) October 04, 2016
A team of tech entrepreneurs spanning Chicago and Barcelona, including world champion soccer star Gerard Piqué, is introducing Daybook, a new iMessage app extension. The Daybook launch follows Apple's iOS 10 rollout, and is one of the first free apps available in the new iMessage App store – at http://bit.do/daybookapp. Daybook's mission is to make it easier to get together with friends and family, a task often compared to "herding cats."
"Daybook answers a real need by simplifying the communication process in a far more natural and inclusive way for everyone involved – using a well-known channel for group decision-making," said Daybook CEO Andrew Draft. "This new form of communicating through iMessage Apps will have a profound impact for both consumers and businesses in the future, and we're only now beginning to see some of the earliest innovations in this space. We're proud Daybook is among the first movers on this exciting new frontier."
Daybook was originally conceived as a standalone social planning app. When Apple announced on June 13 that it was opening up its messaging platform to third-party developers in conjunction with its latest iPhone software update, the Daybook team immediately saw the opportunity to integrate social planning tools into iMessage. The Daybook launch coincides with the growing recognition that polling improves the chat experience. On September 22, Facebook announced plans to integrate polling into Facebook Messenger.
Messaging is the Future / Daybook Fills A Social Gap
Research shows that messaging apps are the most popular and widely used across all mobile platforms. The world's top four messaging apps – Facebook's Messenger, WhatsApp, WeChat and Viber – claim nearly 3 billion monthly active users, now outnumbering the combined active users on the world's four largest social networks, including Facebook.
"Daybook's planning tools integrate seamlessly with the default iPhone messenger, iMessage," said Asher Corson, Daybook's Head of Product. "Therefore, the planning process will remain in a familiar group chat but with added voting and polling functionalities to simplify group decision-making. By offering group planning and polling directly within iMessage, Daybook aims to make the headache and pain of scheduling get-togethers a thing of the past."
The Genesis of Daybook
Daybook was conceived while Draft was traveling in Spain and trying to make plans with friends, including Daybook co-founder Gerard Piqué. Like most people, Draft & Piqué use several group chat channels to plan get-togethers. Over time, they realized the inherent limitations in making decisions and plans within a traditional group chat.
"Andrew and I agreed there had to be a better, simpler and more efficient way to organize plans with a bunch of people, which is a universal problem no matter where you live or visit," said Piqué. "When we couldn't find one, the idea for Daybook was born."
Piqué is also an entrepreneur in his own right with extensive experience in the gaming and tech sector, having launched "Golden Manager," an online mobile game. He is also extremely social -- as evidenced by his nearly 19 million Facebook, 13.3 million Twitter and 9.4 million Instagram followers. Earlier this year he became an avid Periscope user, gaining attention by posting recordings from the team bus and airplanes where he answered questions from fans.
Due to Piqué's massive social media following worldwide thanks to his position on FC Barcelona and the Spanish National Team, Daybook has plans to offer Spanish and Catalan versions in the near future. Daybook is also developing a fully featured web version that will be compatible with all mobile operating systems. To date, Daybook has raised more than $500,000 in seed capital from strategic investors.
About Daybook
Chicago-based Daybook (http://www.daybookapp.com) is wholly owned by privately held Aviato Calendar Ventures. Its initial product offering is Daybook, a unique social planning and polling iMessage app extension. Daybook's mantra: "Plan & Poll Together"
FOR DAYBOOK-RELATED IMAGES, PLEASE DOWNLOAD MEDIA KIT AT http://www.daybookapp.com.