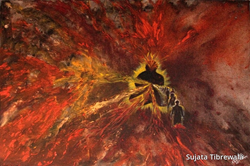 The paintings seem to answer the dilemma we face while confronting our darkest secrets
(PRWEB) September 29, 2016
Cupertino, California: Artist Sujata Tibrewala tries to understand the many facets of one's own being through some of her works, to be displayed at a new exhibition. The exhibit titled The Creative Soul: Art & the 9 Levels of Self opens on October 8 and is third in the series of three multi arts shows that aim to explore what art stands for and why it is important in our lives. The three areas that the series has pondered upon are – how art can awaken sentient experiences, how it creates other worlds through arts, play and ritual and how art can be used to communicate with the many levels of self.
Echoing the sentiment of interacting with one's soul and understanding the many layers of one's own personality is an acrylic on canvas work by the artist titled, 'Which One of These is Me?' The painting that is done in strong, flaming hues shows a human figure, with many other similar figures appearing out of it. The symbolic explanation being, that in the course of our lives we often assume so many different identities and play such conflicting parts that it reaches a stage where, if we were to look back and identify ourselves from the roles that we have played, may be, we won't be able to sift through the maze and tell what we truly stand for. The artwork in a rhetorical way seems to answer the dilemma that humans often face while communicating with their deepest, darkest secrets and desires.
Also forming the part of the exhibition is another work called 'Slipping Away.' This work shows a strong portrait of a woman done in grey. The piercing eyes of the portrait seem to be looking for an identity that has been lost in the reams of time. The wistful longing of a trait, a habit or that carefree abandon that was once a part of our personality is something that we all may have missed at least once in our lives. The artist seems to be trying to catch a mirage in this work. She looks for a person that once was but no longer seems to exist. She wonders if she can touch her and feel her for real but wonders if it is just a part of her past that will disappear the moment she tries to touch her.
The works that form the part of series are a philosophical showcase of attempting to unearth the mysteries of our own worlds and the personalities trapped within.
The exhibition also showcases works on the similar theme by some other artists such as Steven Blaine Adams, Linmayu Appavu and Mary Burton amongst many others.
About the artist:
Sujata Tibrewala, a self-taught artist come engineer remarkably embodies the indomitable spirit of human existence through her works. Her works, center around the theme of eco-feminism. She has exhibited her artworks in some of the most reputed venues around the globe such as University of Illinois, Chicago, Raw San Jose, Parallax Art Fair London, the Regional Commission of Arts St Louis, Life Force Arts Chicago, Mindworks Gallery Chesterfield, St. Louis Artists' Guild, Chesterfield Arts, Art World Association, Women's Caucus for the Arts, MySLART and Lalit Kala Academy, Delhi. She moved to the USA in 2010 from India and practices her art form at the Bay Area, CA, where she resides presently.