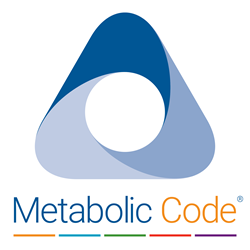 Boca Raton, Fl (PRWEB) September 29, 2016
Metabolic Code is pleased to announce a new partnership with the George Washington University (GWU) Integrative Medicine Program. The collaboration will lead the health and wellness industry into a new era of innovation, higher quality health care and improved clinical outcomes.
The Metabolic Code cloud-based system offers a compelling point of care platform for practitioners to manage patients effectively. The platform aggregates biologic and self-reported data from each patient and generates an individualized care plan. This information is conveyed to the patient by the provider in a comprehensive report, which includes suggestions for nutrition, exercise and strategic dietary supplementation to correct metabolic imbalances and restore vitality. Providers can track patients longitudinally, assess interim outcomes and make adjustments between office visits. Metabolic Code represents the nexus between lifestyle medicine, technology and personalized care.
In a review of the underlying science, practical clinical application and market place innovation, George Washington University has agreed to include the Metabolic Code system in the Master's program in Integrative Medicine for all their students. Metabolic Code offers an information-rich teaching environment for students that accelerates their understanding of fundamental concepts in lifestyle medicine and ensures exposure to real world tools for future Integrative practitioners. According to the American College of Preventive Medicine, "lifestyle medicine is a scientific approach to decreasing disease risk and illness burden by utilizing lifestyle interventions such as nutrition, physical activity, stress reduction, rest, smoking cessation, and avoidance of alcohol abuse. Lifestyle medicine is the recommended foundational approach to preventing and treating many chronic diseases."
George Washington University also views the deployment of the Metabolic Code platform as an enormous research opportunity as physician practices adopt the system. Many challenges exist in the collection of medical outcomes data, especially in the field of health and wellness. Physician practices generally function independently of the conventional health care system, little industry oversight occurs, and dietary supplements are unregulated. The core of the Metabolic Code is a sophisticated technology that ensures cohesive clinical decision-making across participating practices, access to high quality products, and the extraordinary opportunity to track outcomes data among large populations.
George Washington University will provide research support and analytics to assess clinical outcomes, improve the algorithms, and produce clinical care guidelines and research papers that will change the medical industry. The partnership between Metabolic Code and GWU will enable a leap forward to occur in lifestyle medicine by establishing a health services infrastructure and research agenda to produce best practices in medical wellness.
"We are delighted to finalize this partnership with the Metabolic Code. This represents many years of hard work and sacrifice to produce a platform that creates efficiencies for practitioners while serving patients in their journey towards wellness. George Washington University has a strong interest in the educational and research opportunities that the Metabolic Code provides, and together, we will improve the evidence base of lifestyle medicine and hopefully change the practice of medicine as well," says Andrew Heyman, MD, Program Director of Integrative Medicine, GWU.
"To have George Washington University adopt the Metabolic Code as the platform of choice for their students in the Masters' program for Integrative Medicine is a tremendous honor. The research support and clinical outcomes coming from GWU will directly feed into our platform to continually enhance the algorithms and as result, deliver better health outcomes" says Bassel Haidar, President, Metabolic Code.
______________________________________________________________________________
Key Members
Andrew Heyman, MD, Program Director of Integrative Medicine at George Washington University and Chief Medical Officer, Metabolic Code
Bassel Haidar, President, Metabolic Code
For More information, contact: Lee Rolnick 561-972-9535 or lrolnick(at)metaboliccode(dot)com
About Metabolic Code
Metabolic Code evaluates where a patient's chemistry is today, and predicts their potential future health risks. Healthcare providers receive a Health Assessment and Vitality Report highlighting their patient's previously uncovered metabolic imbalances and disruptors before they turn into chronic conditions and accelerate aging, and also provides a personalized plan to optimize the patient's health and vitality. The Metabolic Code empowers healthcare providers to Make More, Work Smart, and Deliver Better Health Outcomes.