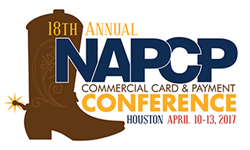 Wayzata, Minnesota (PRWEB) September 29, 2016
The NAPCP serves a community of 16,000 Commercial Card and Payment professionals, and is primarily made up of end-users. Almost 70% of these end-users are decision-makers. The NAPCP Annual Conference is the industry's must-attend event of the year.
To learn more and find the perfect opportunity, follow the action items below:

Download the 2017 Annual Conference Marketing Opportunities Guide for sponsorship, exhibit, speaking, logistics and other details
Contact Rachel Porter, NAPCP Events Manager, for Annual Conference Sponsor marketing opportunities: rachel_porter(at)napcp(dot)org | 952-546-1880, ext. 7
The NAPCP is excited to introduce several new opportunities, including a conference app. The NAPCP is pleased to offer two outstanding corresponding marketing opportunities:

banner ad placed at bottom of app landing page (4 available)
push notifications to drive traffic to exhibit table (4 available)
Other new offerings:

charging stations placed in the high-traffic Exhibit Hall
Starbucks coffee card for all attendees
conference registration packet insert
In addition, Commercial Card providers are encouraged to become an NAPCP Year-Round Partner Sponsor to maximize conference presence and get in front of a focused, end-user audience to demonstrate products, solutions and thought leadership.
Benefits include:

brand visibility
expertise visibility
various opportunities at significant savings
Contact Laura Flandrick, NAPCP Manging Direcotr, for Year-Round Partner Sponsor marketing opportunities:
laura_flandrick(at)napcp(dot)org | 952-546-1880, ext. 2
About The NAPCP
The NAPCP is a membership-based professional association committed to advancing Commercial Card and Payment professionals and industry practices worldwide. Serving a community of 16,000 professionals, the NAPCP is a respected voice in the industry and an impartial resource for members at all experience levels in the public and private sectors. The NAPCP provides unmatched opportunities for continuing education and peer networking through its conferences, Regional Forums, webinars, website, virtual demonstrations, newsletters and regular communication. The association sponsors research and publishes timely and relevant white papers, survey results and other documents. The NAPCP offers a Certified Purchasing Card Professional (CPCP) credential.
Become a Member or Complimentary Subscriber
Membership in the NAPCP provdes access to the educational and networking resources needed to build and manage a world-class Purchasing Card (P-Card) program. Members learn best practices and communicate with other P-Card professionals willing to share success stories and methods. Membership also allows industry professionals to discover new ways to expand programs and reap the benefits of economy and efficiency.