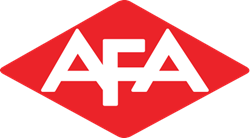 AFA's Fire & Life Safety Summit made a significant impact on attendees throughout the NYC area and provided pertinent information to keep NYC buildings safe and in compliance with the latest codes, states Richard Bernich, AFA's Director of Marketing
Syosset, NY (PRWEB) September 28, 2016
AFA Protective Systems, Inc. (AFA) a New York-based super regional fire safety and security systems integrator, hosted an important Fire & Safety Summit on September 21st at the New York City Fire Museum. The event provided building owners, property managers, architects and electrical engineers with the latest information on fire codes and regulations affecting them as well as the latest fire technologies available in the industry. AFA has always been on the forefront of new fire technology and continues to guide property managers & building owners in the right direction. Attendees of the Fire & Safety Summit had the unique opportunity to hear from industry experts on the latest NYC codes affecting their buildings and how to keep in compliance with the ever-changing codes.
The event's presenters included Ron Rothman, AFA's Senior VP of Sales & Business Development and Jared Kleinman, AFA's NYC Sales Consultant supported by a showcase of guest speakers that included Tom Von Essen, former NYC Fire Commissioner; Doug Baena of NAMSnet; Glenn Wimmer, FDNY Supervisor of the Central Station Unit; Joseph Shaji, FDNY Chief Plan Examiner; Gordon Hope formerly of Honeywell; Dan Corbett of Notifier by Honeywell; and Michael Dugan and Thomas Jensen formerly of the FDNY and now representing the NY Fire Safety Institute. Discussions included updates on the new ARCS (Auxiliary Radio Communication Systems), updated fire alarm technologies with an emphasis on NYC approved wireless sensors, and central station alarm signaling communications as well as a Q & A session on filing, permits, plan reviews, variances, and emergency action plans.
AFA's Fire & Life Safety Summit made a significant impact on attendees throughout the NYC area and provided pertinent information to keep NYC buildings safe and in compliance with the latest codes. For further information, contact AFA Protective Systems, Inc. at 877-232-1873 or visit http://www.afap.com
About AFA Protective Systems, Inc.
Since 1873, AFA Protective Systems, Inc. has been leading the fire, life safety, and security industries with unparalleled service and commitment to its commercial and residential customers. Through it's 18 East Coast offices AFA offers a full range of fire, security and communication products & services including central station monitoring, fire alarm systems, carbon monoxide alarms, sprinkler system monitoring, video surveillance, access control, intrusion detection systems, "Vision" remote services, mass notification systems, intercom/paging, and nurse call systems. AFA Protective Systems, Inc. started as the nation's first central station fire alarm company and has evolved into a full-service fire and security solutions provider who installs, monitors, services, and inspects the systems that protects its customers' business or property. AFA Protective Systems, Inc. provides customized solutions to organizations ranging from small to medium size businesses to high-profile enterprises that fall within a wide spectrum of vertical markets including industrial, transportation, retail, real estate, architects & engineers, and government. From commercial to residential installations, AFA Protective Systems, Inc. is committed to providing innovative solutions that deliver the quality fire and security systems and services its customers are entitled to throughout the country. For further information, please visit http://www.afap.com.
AFA Protective Systems, Inc. PR Contact:
Monique Merhige
Infusion Direct Marketing & Advertising, Inc.
631-846-1558
monique(at)infusiondirect(dot)com