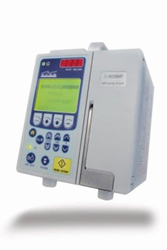 NATICK, MA (PRWEB) September 30, 2016
Zyno Medical, LLC, a global medical device manufacturer focused on IV infusion pumps, patient safety and providing clinical workflow improvements, announced that Florida Cancer Specialists & Research Institute (FCS) has selected the ZynoFlo Z-800WF infusion pump for all of its treatment locations.
Zyno Medical's ZynoFlo wireless integrated cloud-based system is specifically designed to provide nursing workflow efficiencies, patient safety, and revenue-related benefits, and compliments the established reliability and durability of the Z-800 series infusion pump platform. The ZynoFlo wireless integrated system is the latest advancement in infusion technology for community-based oncology practices and hospital oncology infusion centers.
ZynoFlo bridges the gap between drug dispensing systems, infusion therapy processes, and EMR systems by creating a connected flow of in-patient-context information between these systems and oncology infusion workflow processes. One of the tools that assists in this effort is Zyno's patented Patient Query feature, which provides easy electronic retrieval of in-patient-context medication orders by a nurse from the infusion pump, a process that is complemented by posting information to the EMR after an infusion is complete.
As a clinical and administrative tool, ZynoFlo optimizes nursing workflow productivity and patient throughput while enhancing patient safety and enabling nurses to spend more time with patients. In addition, the automatic capture and documentation of billing information provides productivity benefits and unprecedented confidence in revenue capture and billing accuracy. ZynoFlo also provides data analytical and reporting tools that enable the visibility, accountability and measurement that can serve as a foundation for clinical and operational continuous process improvement initiatives.
FCS COO Todd Schonherz said, "We are excited to implement the most current generation of infusion technology at Florida Cancer Specialists. It represents our continued commitment to invest in the best technology tools available to serve our patients. Our decision was based on a comprehensive RFP process followed by month-long trials with the leading vendors. The ZynoFlo system provided a compelling array of benefits for our patients and our clinical and operational processes that led to a clear decision for FCS. We look forward to our partnership with Zyno Medical to fully realize the benefits of this exciting technology."
"We are very pleased to partner with FCS to bring the latest in infusion technology to their patients." said Dr. Chaoyoung Lee, the president and CEO of Zyno Medical, LLC. "The ZynoFlo wireless integrated system is an excellent fit for FCS as a tool to help them reach their goals for enhanced patient safety, clinical workflow efficiency, and continuous clinical and operational process improvement, while also enabling nurses to maximize their time spent with patients."
About Florida Cancer Specialists & Research Institute: (FLCancer.com)
Founded in 1984, Florida Cancer Specialists & Research Institute (FCS) is the largest independent medical oncology/hematology practice in the United States. With nearly 200 physicians, 150 nurse practitioners and physician assistants and over 90 locations in our network, we are committed to providing world-class cancer care in community-based settings close to home.
Recognized by the American Society of Clinical Oncology (ASCO) with a national Clinical Trials Participation Award, FCS offers patients access to more clinical trials than any private oncology practice in Florida. 70% of new cancer drugs approved in 2015 for use in the U.S. were studied in clinical trials conducted with FCS participation*. Our physicians are consistently ranked nationally as Top Doctors by U.S. News & World Report. Trained in such prestigious medical schools and research institutes as Duke, Stanford, Harvard, Emory, M.D. Anderson, and Memorial Sloan-Kettering, the physicians of Florida Cancer Specialists provide leadership and consultation in the state's leading hospitals.
FCS serves patients on the Gulf Coast from Naples to the greater Tampa Bay area, north as far as Tallahassee, in Orlando and surrounding Central Florida communities, and on the East Coast in Daytona/Palm Coast, Vero Beach/Sebastian and in Palm Beach County.
Florida Cancer Specialists has built a national reputation for excellence that is reflected in exceptional and compassionate patient care, driven by innovative clinical research and cutting-edge technologies that help advance targeted treatments and genetically-based immunotherapies, and embodied by our outstanding team of highly-trained and dedicated physicians, clinicians and staff.
*Prior to approval
About Zyno Medical, LLC: (zynomed.com)
The mission of Zyno Medical is to design and manufacture the most advanced infusion systems while applying a commitment to quality, simplicity, durability, connectivity and upgradability in order to deliver extraordinary benefits in patient safety, work flow efficiency and low total cost of ownership.
Zyno Medical's market focus is the non-acute or alternate care market where it manufactures durable, advanced technology infusion pumps designed specifically for the needs that are unique to this market. Since its inception, the company has assembled a wealth of engineering talent and clinical experience, as well as manufacturing, customer, and market expertise to serve its customers. Zyno Medical is headquartered in Natick, Massachusetts.