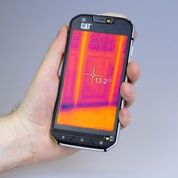 The Cat S60 is a welcome addition to Group Mobile's growing portfolio of mobile technology solutions.
Chandler, AZ (PRWEB) September 29, 2016
Group Mobile, a rapidly expanding and growing premiere provider of innovative, full service mobile technology, announced today the addition of the Cat® S60, the world's first thermal imaging smartphone, part of Caterpillars's extensive portfolio of ruggedized devices. Built into the Cat S60 is the Lepton thermal microcamera module by FLIR, enabling a huge range of use cases for Group Mobile customers including construction, public safety professionals, telecom, utility workers and outdoor sports enthusiasts to name a few.
"The Cat S60 is a welcome addition to Group Mobile's growing portfolio of mobile technology solutions. Caterpillar's brand of rugged smartphones has proven to have great global potential, attracting customers in new markets looking for advanced features such as the S60 thermal imaging camera," said Darin White, President of Group Mobile.
The Cat S60 thermal imaging smartphone allows users to be the first in the world to use their smartphones for a multitude of use cases including: detecting heat loss around windows and doors; spotting moisture and missing insulation; identifying over-heating electrical appliances and circuity; and viewability in complete darkness. The thermal camera visualizes heat that is invisible to the naked eye, highlighting temperature contrasts. The S60 can pick up heat and measure surface temperatures from a distance of up to 50 to 100 feet, and see through obscurants such as smoke.
Cat S60 key features:

Waterproof to depths of up to 5 meters for one hour
Drop proof to 1.8m on to concrete, MIL Spec 810G, dustproof
Strengthened Die Cast Frame
Super bright display (typical 540 nits), Corning® Gorilla® Glass 4
7" HD capacitive multi-touch with auto wet finger & glove support
Optimized battery performance (3800mAh)
High quality audio experience (>105dB)
Underwater 13MP main camera with dual flash, 5MP front-facing camera
4G LTE
Snapdragon 617 octa-core processor
32GB ROM, 3GB RAM
Android™ Marshmallow
Dedicated FLIR thermal camera app with MSX technology; still image, panorama, and video capture; changeable heat palettes; temperature spot meter; and min, max, and average temperature data
The latest addition of Cat's S60 thermal imaging smartphone to Group Mobile's broad portfolio will make the mobile solution provider the single destination for any and all rugged mobile computing devices. To learn more about the Cat Smartphones Group Mobile is now carrying visit: https://groupmobile.com/cat, or call toll free 866-RUGGED8 (1-866-784-4338).
About Group Mobile
Group Mobile, a wholly owned subsidiary of Form Holdings, headquartered in Phoenix, AZ, serves customers world-wide. Group Mobile is a rapidly expanding and growing and innovative full end-to-end solution provider of rugged mobile hardware, lifecycle services, system integration, hardware service support, pre-and post-deployment, break-fix, warranty repair, customer support helpdesk and more — all constructed to solve pressing problems and ensure our customers are receiving exceptional value, return on investment and a trusted long-lasting partnership. Group Mobile has mastered the true challenges of mobility through understanding the key elements required for a successful mobile deployment — hardware, connectivity, data and customer back-end network infrastructures.
About Cat devices and accessories
The Cat brand stands for trust, durability, reliability and quality. The Cat DNA is found in every Cat mobile phone and accessory offered by Bullitt Mobile Ltd. and provides boundless experience with robust mobility. A new product was created for wireless communication that meets the great variety of needs of a demanding life. To find out more about what Cat phones and accessories are made of, visit http://www.catphones.com.
About Bullitt Group
Founded in 2009 by Colin Batt, Dave Floyd and Richard Wharton, Bullitt Group enables the world's leading brands to enter into rapid growth consumer technology categories creating broader appeal and new, long term income streams in the process. Since its formation six years ago Bullitt Group has designed, manufactured and distributed millions of mobile phones, audio products, other connected devices and related peripherals to more than sixty countries across the globe. Bullitt is the global licensee for: Cat (Caterpillar Inc.) for mobile phones and related peripherals; Ted Baker for audio products; JCB for mobile phones and related peripherals; Ministry Of Sound for audio products and mobile peripherals; Kodak for mobile phones and related peripherals. Bullitt's Group's Head Office is Reading, England, with additional office locations in Taipei (Taiwan), Shenzhen (China), and New York (USA). In 2015, Bullitt Group was named as one of the UK's fastest-growing companies, ranked 7th in The Sunday Times HSBC International Track 200.