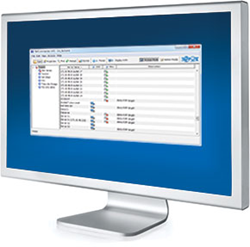 It's simple to install, simple to use and, perhaps best of all, available as a free download
Chicago, IL (PRWEB) September 29, 2016
Tripp Lite, a world-leading manufacturer of power protection and connectivity solutions, has introduced NetCommander-AXS IP KVM software. The new software is designed to allow users to access and control multiple compatible Tripp Lite NetCommander IP KVM switches from a single interface. Users can also power cycle or power on/off the outlets of connected Tripp Lite PDUs. The NetCommander-AXS software is available as a download from Tripp Lite's website free of charge.
The NetCommander-AXS software installs within seconds via a simple Windows-based program. The software will auto-discover compatible KVMs and PDUs or can be edited manually by an administrator. Authorized users then have the ability to run KVM sessions, view PDU outlet statuses and control the outlets.
Key Features of Tripp Lite's New NetCommander-AXS Software
-- Provides convenient management of servers, computers, UPS systems and environmental sensors connected to the compatible KVM switches
-- Provides a means to manage outlets on Tripp Lite PDUs
-- Allows for access to remote KVM sessions
-- Provides a single centralized list of all servers connected to the KVM switches
-- Allows push configurations such as firmware upgrades to multiple KVMs at the same time
"With our new NetCommander-AXS software, users easily manage and control Tripp Lite NetCommander IP KVMs and all the equipment connected to them with a single interface," said David Posner, Tripp Lite's Director of Marketing for Cables and Connectivity. "It's simple to install, simple to use and, perhaps best of all, available as a free download."
For more information on the new software and to download, visit: Tripp Lite NetCommander-AXS Software.
About Tripp Lite
Outstanding product reliability and exceptional service have been Tripp Lite trademarks for over 90 years. Tripp Lite´s innovations include the world's first UPS system designed specifically for personal computers and the world's most trusted premium surge protector—the Isobar®—with more than 19 million in use. Tripp Lite maintains the highest level of ready-to-ship inventory in the industry with more than 3,500 different products, including UPS systems, rack systems and cooling solutions, PDUs, PowerAlert software for enterprise-level system management and control, surge protectors, KVM switches, cables and connectivity products, inverters, power strips and notebook accessories. Headquartered in Chicago, Illinois, Tripp Lite maintains a global presence with fully staffed offices worldwide. Additional information, including a list of Tripp Lite's sales offices and authorized reseller partners, can be found by visiting Tripp Lite's website: http://www.tripplite.com.