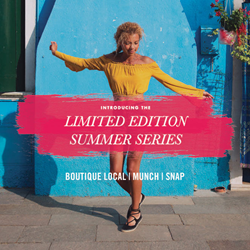 We know our consumers, we know their desires and their behaviors, and this collection is a direct result of that insight. We know they'll absolutely love this product - Toni Ambler, Brand Strategy Director.
Anaheim, Calif. (PRWEB) September 30, 2016
Hot off the launch of its 2017 Europe brochure launch, championing more in-depth European travel experiences, Contiki Vacations has today announced a suite of three brand new itineraries which offer savvy young travelers the opportunity to see Europe in an entirely new and exciting way. Informed heavily by research into millennial travel appetites, the Limited Edition Summer Series is made up of three unique trips, each focusing on either food experiences, photography or going local in style. Limited Edition travelers can expect to see Europe in smaller, more intimate groups, taking a unique and authentic journey around some of the continent's top destinations.
Limited Edition Summer Series Trips
BOUTIQUE LOCAL – 12 days, boutique accommodation and amazing curated experiences.
The boutique local trips are about getting up close and local with the coolest neighborhoods of Spain & Portugal, visiting amazing restaurants, trendy local bars and generally getting the insider ticket to Salamanca, Madrid, Lisbon, Porto, Bilbao and Barcelona. Mosey around the Guggenheim in Bilbao, surf the Basque coast in San Sebastien, fill up on Tapas in Madrid and spend your evenings getting comfy in Pinterest-worthy boutique hotels. As the name suggests, Boutique Local will stay in boutique hotels throughout.
SNAP – 9 days, Trip manager & Instagrammer guides and once in a lifetime photo opportunities.
Designed entirely for budding photography superstars, SNAP is the Limited Edition Summer Series itinerary for those who combine a love of travel with a love of photography. Led by one of Contiki's expert Trip Managers and an experienced Instagrammer to share tips and tricks for getting THE shot, SNAP will visit the Instagram gems of Salzburg, Prague, Berlin, Venice and Ljubljana. Stunning landscapes, beautiful cities, ocean views, and the Venice canals are all on the agenda.
MUNCH – 9 days, Trip Manager and Foodie influencer guides and amazing gastronomic experiences.
Dedicated to the die-hard foodies who need nothing but a knife, fork and passport when travelling, Munch takes travelers on a gastronomic journey through Nice, Aix-en-Provence, Barcelona, Milan, Florence and Bologna. Cooking classes, pasta making, Tuscan dinners, market tours and wine making are all included, and a dream team of Contiki Trip Manager and foodie social influencer is on hand to ensure only the most delicious establishments are visited.
As the name suggests Contiki's three new trips are of limited availability, with just two departures of Munch and SNAP and three departures of Boutique Local running throughout summer 2017, and plans to expand the series and departures further into 2018 and beyond. An additional selling point of the Limited Edition Summer Series is the use of exclusively luxury, air-conditioned coaches to transport its smaller groups around Europe.
Research conducted by Contiki recently revealed a millennial appetite for travel experiences that facilitate the learning of new skills, while offering heightened exclusivity and top quality inclusions, and these insights governed the conception of the Limited Edition Summer Series. Munch and SNAP both offer travelers the chance to learn new skills in photography and food/wine appreciation, while all three new trips offer comfortable hotel accommodation, luxury coaches a carefully curated itinerary of both included and optional experiences.
"The Limited Edition Summer Series is testament to Contiki's continued innovation," says Toni Ambler, Brand Strategy Director. "We might have 54 years in the business but we are always improving our brand and product. We know our consumers, we know their desires and their behaviors, and this collection is a direct result of that insight. We know they'll absolutely love this product."
Boutique Local, Munch and SNAP, Contiki's full suite of Limited Edition Summer Series trips, available for booking now!
For more information on Contiki's trips throughout Europe, USA, Canada, Asia and Latin America check out contiki.com.
Life's an adventure – make it count with absolutely #NOREGRETS.
--ENDS--
About Contiki Vacations
Contiki are the world leaders in travel experiences for 18-35's. We're about discovery, once-in-a-lifetime moments, human connections, and making every second of being young count. We run over 300 trips in 50 plus countries, each and every one designed to get to the beating heart of a destination, understanding the local way of life and unearthing #NOREGRETS experiences. A member of the family-owned The Travel Corporation (TTC), we are renowned and trusted for our outstanding quality, service, value, reliability and financial stability. Want to know more? Visit http://www.contiki.com .