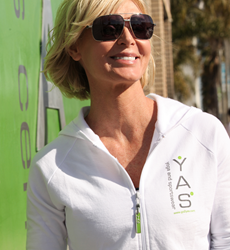 As the health and fitness industry changes and moves toward a more balanced approach to exercise, the combination of yoga and Spinning® is on the cutting edge of the new era of body/mind workouts.
Venice, CA (PRWEB) October 01, 2016
After introducing the world to its first hybrid workout in 2001, a combination of YOGA and SPINNING, former Nike yoga spokesperson and triathlete, Kimberly Fowler, is making history again by offering the first 200-hour certified teacher training program for a hybrid of two distinct fitness regimes.
Known as the "Godmother of the yoga hybrid movement" and "the face of modern yoga" owing to her innovative methods of blending yoga and fitness for modern audiences concerned with safety, conditioning and health. On October 14th, 2016, this fitness icon and yoga powerhouse will launch the first module of the much-anticipated new YAS (Yoga & Spin) Teacher Training, at her recently opened location at 245 Main Street in Venice, California.
"The new YAS Teacher Training will provide instructors with the necessary tools to teach a user friendly, fitness-oriented style of yoga in combination with the fundamentals of teaching a studio inspired indoor cycling class," says Fowler. Participants will be on their way to being 200-Hour Yoga Alliance certified and to teach what Yoga Journal Magazine recently called "Yoga's hottest hybrid."
Fowler has structured the Teacher Training to be informative and enjoyable, giving instructors all the tools they need to create safe, fun and effective yoga hybrid classes that are based on exercise science. This includes yoga pose modifications and a bike setup with an emphasis on both effectiveness and safety. "YAS' athletic yoga sequencing and sporty anatomy based cueing is perfect for communicating the mind/body connection in both yoga and indoor cycling classes," Fowler explains.
Just like her studios, book and DVD's the YAS Teacher Training is safe and effective with practical application not only in class but also in your everyday life. Fowler wanted to make it easier to get Yoga Alliance certified by breaking the training into 6 modules all of which do not have to be taken sequentially except for Module 1-The Basics-Techniques, Training & Practice. The other Modules include Module 2-Anatomy & Physiology, Module 3-Yoga Philosophy, Lifestyle & Meditation Module 4-Teaching Methodology Module 5-Indoor Cycling, Hybrid Training and Module 6-The Business of Yoga. Each Module cost is $495 making the training affordable with the ability to do it at your own pace.
Fowler adds that while most attendees will probably be experienced yoga or indoor cycling students, teachers or fitness professionals, there are no prerequisites to the YAS Module 1 Training.
About Kimberly Fowler
An industry innovator, Kimberly Fowler is strong, passionate and dedicated, having brought change and a fresh perspective to both the yoga and fitness worlds. Far from your typical Yogi, she is as irreverent and unpretentious as she is knowledgeable. She respects Yoga tradition, but is just not into imposing dogma. The founder of YAS Fitness Centers, Fowler is also the author of "The No OM Zone" and "Flat Belly Yoga!," (Rodale) and the creator of Yoga for Athletes®. But her focus stretches far beyond the Yoga and fitness worlds: she is also a philanthropist, feminist, athlete, speaker and survivor. Diagnosed with brain cancer when she was in law school, Fowler battled her way back to health and is going stronger than ever over three decades later. She credits yoga as central to her recovery and comeback.
Since opening up the revolutionary YAS Venice (California) in 2001, Fowler has shaken up the yoga and fitness worlds with her fresh, no-nonsense workouts designed for everyone from elite athletes to beginning Yoga enthusiasts, and it's probably not surprising that she counts a number of Hollywood celebrities and professional athletes in her clientele. With the launch of her new YAS Teachers Training, Fowler hopes to further her goal of getting people "off the couch and onto the mat" by making her techniques even more accessible.
"As the health and fitness industry changes and moves toward a more balanced approach to exercise, the combination of yoga and Spinning® is on the cutting edge of the new era of body/mind workouts," says Fowler. "The foundational course we're launching marks a major step forward for the YAS movement, and I'm really excited about it."
About YAS FITNESS (http://www.go2yas.com) YAS Fitness is the first studio dedicated to offering yoga and indoor cycling under one roof. Frequented by celebrities, elite athletes, and those desiring a safe, fun and effective workout, YAS has remained one of the hottest workouts in Los Angeles for fifteen years.