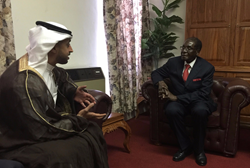 We heard H.E. President Mugabe's views about the KP and how it is imperative for Zimbabwe's sustainable future in rough diamond production and export
Dubai (PRWEB) September 28, 2016
Well into the second half of his one-year tenure, the UAE Kimberley Process Chair, Ahmed Bin Sulayem steps up the pace on a number of initiatives, including his visits to KP member and other African States. Zimbabwe was the next stop on his extensive tour of African States, to give Africa a Voice, for which the Kimberley Process was originally intended. In Harare, the KP Chair met with the President H.E. Robert Mugabe, government ministers and senior mining officials.
On his third visit to Zimbabwe, the first as KP Chair, Ahmed Bin Sulayem commented: "As the country has faced many challenges in its past, we wanted to experience how the rough diamond industry of Zimbabwe was developing and what challenges it might be facing today. On meeting with H.E. President Mugabe, we heard his views about the Kimberley Process and how it was imperative for his country's diamond industry to continue working closely with the KP, as Zimbabwe looks towards a sustainable future in rough diamond production and export".
Zimbabwe was re-admitted to the Kimberley Process in June 2011, following a 2009 suspension, and remains a key player in the African diamond mining and production industry.
More recently, the Zimbabwe government decided to restructure and consolidate its corporate approach to the management of diamond mining and export. This fundamental change, whilst clearly a matter of internal policy, was instigated as the country's diamond production operations remained compliant with Kimberley Process mandates.
The Minister for Mines and Mining Development, H.E. Walter Chidhakwa said: "We became aware of certain internal matters, involving transparency of reporting, in a corporate sense, which is why we, as government, decided to create a more consolidated approach to our internal diamond companies' structure. With these changes in place, we are confident of a resilient and robust diamond business future. We are most grateful for the support of the KP Chair, Mr. Bin Sulayem, who has observed how we approach our responsibilities and agreements with the Kimberley Process. And we're delighted that he took the time to not only meet with us here in Harare, at Ministerial level, but also took the time to visit our diamond mining facilities to see them for himself".
Zimbabwe officials within the industry believe the country has a robust future, given the extent of as yet untapped deposits, which they understand are still available. The main challenge, according to officials, is attracting sufficient investment in survey and discovery, which is something the ministry of mines says it's looking into, under their new corporate structure.
"Visiting the diamond fields of Chiadzwa, in the Marange region, we were able to observe the processes first hand, rather than just reading about them. What we've observed is a holistic and professional approach to mining operations. Security, along with a very stringent approach to health and safely was apparent - and, in talking to production management and workers, there exists a strong feeling of commitment and adherence to the systems in place under Kimberley Process mandates", said Bin Sulayem.
Ahmed Bin Sulayem's 'Africa Initiative' is part of an overall strategy to engage with KP family members with a view to supporting their membership of the Kimberley Process.
-ENDS-
Media Enquiries:
Stephen Marney
Press Secretary to the UAE KP Chair.
+971 50 655 8533
press(at)kimberleyprocess(dot)ae
About the Kimberley Process Certification Scheme
The Kimberley Process Certification Scheme is a collaborative initiative between governments, industry and civil society to stem the flow of conflict diamonds into the diamond trade. Started in 2000, the creation of the Kimberley Process Certification Scheme (KPCS) in November 2002 laid the foundation for the KPCS by setting out the requirements for controlling rough diamond production and trade. It entered into force in 2003, when participating countries started to implement the rules. There are now 54 participants representing 81 countries including the UAE.
In 2003, the UAE adapted its Federal Law "Union Law no.13 Regarding Supervision of Import/Export and Transit of Rough Diamonds" and became the first Arab country to implement the Kimberley Process Certification Scheme. The Kimberley Process office in DMCC is the entity authorised by the UAE Ministry of Economy to authenticate the ethical sourcing of rough diamonds traded in the country.