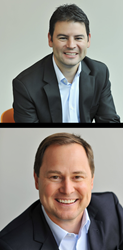 Atlanta, Georgia (PRWEB) September 29, 2016
N3, the premiere B2B sales execution and demand generation consultancy, today announced two executive appointments in addition to the opening of a new business location in Florida. Marcel Florez, formerly SVP Cloud Practice, has assumed the role of President, and Shannon Copeland joins N3 as Chief Operating Officer, effective immediately. The company also announced a business expansion to Fort Lauderdale, Fla. with the opening of N3's eighth office location. The office will provide additional support to N3 customers in Latin America and around the globe.
Marcel Florez previously served as Senior Vice President responsible for leading N3's Cloud Sales Practice and managing relationships with large software and technology clients worldwide. As President, Mr. Florez will assume worldwide responsibility for all N3 Sales and Delivery.
"We immediately recognized Marcel's high potential from his start 10 years ago," said Jeff Laue, CEO of N3. "His story exemplifies our philosophy of identifying great talent and providing these individuals with opportunities to develop their talents and exceed their career growth goals."
"It's amazing to be part of N3's growth—from one office with 50 people when I joined almost 10 years ago to more than 1,200 people worldwide today," said Mr. Florez. "Since our inception, we have been tremendously successful identifying and closing new opportunities for our clients such as Microsoft, HP Enterprise, SAP, GE, and many others. We've developed global sales expertise in Cloud technology, allowing us to help our clients truly grow revenue and Cloud consumption."
Newly appointed COO, Shannon Copeland, joins N3 from Huron Consulting. He is an experienced operator having previously held positions at Chevron, Deloitte, and Georgia-Pacific. As COO of N3, Mr. Copeland will oversee daily operations and work to achieve or surpass the company's profitability, cash flow, and business objectives.
"I'm excited to be part of N3 as we play a pivotal role in helping large companies adapt their sales and marketing organizations to the 'as-a-service' model and solution selling," said Mr. Copeland.
In addition to the executive management changes, N3 also announced the opening of a new office in Fort Lauderdale, Fla., which will provide additional support to customers with a particular focus on Latin America.
"Latin America continues to be a key growth market for N3," said Robert Covington, Co-Managing Partner of RedBird Capital Partners, a principal investor in N3. "This expansion is just another indication of N3's growth potential and deep commitment to producing results for clients worldwide."
About N3
N3 designs and executes large‐scale, outsourced sales and marketing programs leveraging digital marketing, Inside Sales, and custom analytics. A proven leader in the technology and industrial manufacturing industries, N3 delivers results for domestic and global campaigns with our proprietary methodologies and performance‐based approach.
Founded in 2004, N3 has 10+ years of proven success developing and delivering integrated sales and marketing programs for technology and software leaders. N3 employs highly skilled, customer‐focused people worldwide with the ability to deliver in 25+ languages and 85 countries. Headquartered in Atlanta, N3 offers global resources with offices in Costa Rica, Dublin, Fort Lauderdale, London, Seattle, Singapore, and Fargo, ND.
###