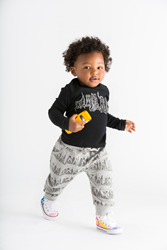 This new fall line is a nurtured, well-balanced blend child-like aesthetics, and distinct illustration and design.
Los Angeles, CA (PRWEB) September 29, 2016
Lucky Jade launches its newest collections of baby clothes for the Fall '16 season. This season's lines include three separate endeavours, including its famous cashmere/cotton line, Luxe, a collection of everyday playwear, Lounge, and its riskiest line yet, a fun and bi-coastal collaboration with Brooklyn artist, Joseph Ari Aloi aka JK5, called JK5 x LuckyJade (LJK5).
Luxe: This high-end line of cashmere/cotton pieces is all about clean lines and classic prints, while simultaneously envisioning a truly wildlife feel — both animal and concrete. Sweet giraffes and inquisitive owls, geometric elephants, fawns and lions can be found on a mix of coveralls, blankets, hoodies and beanies. Right next to those are where to find a love for all things NYC, with the skyline Lucky Jade is famous for, making its appearance. The entire collection can be found in an array of prints for boys and girls, in sizes zero to one year.
Lounge: It's the busy life here in the loungewear collection, with an on-the-go romp through the city in building and taxi-inspired prints for coveralls, dresses, beanies, blankets and casual tops and bottoms, for boys and girls alike. And if the active life of New York isn't enough, one can also find the roar of the jungle with a series of safari animal prints in all the same styles. The collection is available in sizes 0-4T.
LJK5: A collaboration with the Brooklyn artist, Joseph Ari Aloi aka JK5, has led to one of the most distinctive and inspired collections Lucky Jade has ever created. East Coast meets West coast in brightly colored homages to New York and California, including t-shirts and long sleeves, alongside funky, geometric-lettered dresses and rompers, casual-wear sets, and beanies. According to Aloi, "JK5 x Lucky Jade is about creativity, imaginative play, finding that inner spirit, being free, expressing oneself, and letting go. A little sci-fi, mythology, fantasy, words and ideas that say, 'I aspire to inspire!'" When bringing together the casual side of Southern California with the truly artistic side of Brooklyn, NY, there's where to find something truly inspired.
Lucky Jade can be found this fall in premier retail locations, such as Saks 5th Ave, Barney's, and Neiman Marcus, as well as select luxury boutiques throughout the country. Visit Lucky Jade Kids for a complete list of store locations.