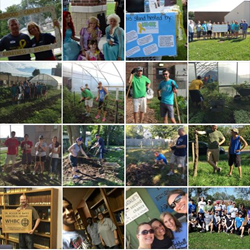 Indianapolis, IN (PRWEB) September 29, 2016
The Indiana CPA Society's statewide annual CPA Day of Service was Friday, Sept. 23.
In 2003, INCPAS was the first state CPA society to implement a Day of Service for volunteers working for CPA firms, businesses that employ CPAs and students majoring in accounting at Indiana colleges. Participants have since completed 514 service projects.
This year alone, teams from these 34 companies completed 41 service projects in 19 Indiana towns:
A.C.T. Services, Inc., Alerding CPA Group, BGBC Partners, LLP, Blue & Co. LLC, Brown, Smith & Settle, LLC, CPAs, Bucheri McCarty & Metz LLP, Business-Matrimonial Valuation Services, LLC, CFO to GO LLC, CliftonLarsonAllen LLP, Crowe Horwath LLP, Dauby O'Connor & Zaleski, LLC, Estep - Doctor & Company, P.C., Geer CPA & Consulting PC, Girardot, Strauch, & Co., Grace College Advanced Accounting Class, Heath CPA & Associates, Indiana Wesleyan University Accounting Club, Insight Accounting Group, Indiana University Northwest, Judy M. Zell, CPA, Kemper CPA Group LLP, Lemler Group, LM Henderson & Co., London Witte Group, LLC, mAccounting, Martin University, McMahon & Associates CPAs, P.C., RBSK Partners PC, Sherck Hussey Johnson & McNaughton, Sikich LLP, Somerset CPAs and Advisors, Swartz Retson & Co., P.C., Vincennes University and Whitinger & Company LLC.
Among the areas served were Carmel, Columbus, Evansville, Gary, Goshen, Greensburg, Highland, Indianapolis, Lafayette, Marion, Merrillville, Mishawaka, Muncie, Munster, South Bend, Terre Haute, Vincennes and Winona Lake.
Service projects included home builds, landscaping and environmental clean up, playgrounds, safe havens, food pantries, schools, children's museums, therapy foundations, golf fundraisers and animal shelters.
###
About the Indiana CPA Society
Nearly 8,100 CPAs in public practice, business and industry, government and education are members of the Indiana CPA Society. INCPAS is the most trusted business resource and advocate in Indiana. Its members are required to abide by the CPA profession's code of conduct. INCPAS members also receive access to quality educational programs and peer networking for knowledge sharing. Society members are trusted advisors to Indiana's business community. INCPAS celebrated its 100th anniversary in 2015. For more information, visit incpas.org.