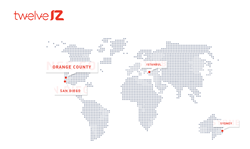 "It's rare to find an agency that can, in-house, take a company from A to Z,"
Newport Beach, California (PRWEB) September 29, 2016
Right Choice was a promotional piece for private investment advisory firm Miramontes Capital. The video traces the lives of a married couple as they navigate their way through life's tough choices. Filmed with a full production crew using Red cameras, the 1-minute commercial was aired on local TV throughout Orange County in early 2016. Ike Elimsa, Director and Founder of Twelve12, expressed his enthusiasm for the distinction. "It's an incredible honor to receive a Telly for the piece. A lot went into its production to ensure that the video accomplished what we wanted it to, and it did wonderfully." The commercial has already received a 2016 IAC Award, as well as honorable mentions amongst others in its industry.
The Telly Awards was founded in 1979 and is the premier award honoring outstanding local, regional, and cable TV commercials and programs, the finest video and film productions, and online commercials, video and films. Winners represent the best work of the most respected advertising agencies, production companies, television stations, cable operators, and corporate video departments in the world. A prestigious judging panel of over 500 accomplished industry professionals, each a past winner of a Telly, judged the competition, upholding the historical standard of excellence that Telly represents. The Panel evaluated entries to recognize distinction in creative work – entries do not compete against each other – rather entries are judged against a high standard of merit.
"The Telly Awards has a mission to honor the very best in film and video," said Linda Day, Executive Director of the Telly Awards. "Twelve12's accomplishment illustrates their creativity, skill, and dedication to their craft and serves as a testament to great film and video production."
About Twelve12
Specializing in strategic planning, branding and marketing, Twelve12 was founded in Orange County with the mission to help small to mid size companies grow. Twelve12 regularly assists companies develop across a wide spectrum of traditional and non-traditional marketing venues, producing advertising, websites, video content and apps, as well as advising to ensure message unity. "It's rare to find an agency that can, in-house, take a company from A to Z," Elimsa added.
To find out more about the Telly Awards visit their website at http://www.tellyawards.com. For more information about Twelve12, visit http://www.twelve12.com.