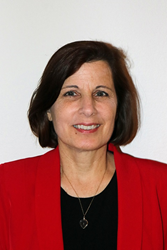 Laurie will be an excellent first EVP & COO for the ITC, as she is a tested leader and is able to analyze situations, define vision and motivate implementation of strategic programs. - David L. Schutt, PhD, CEO, SAE International
WARRENDALE, Pa. (PRWEB) September 29, 2016
SAE Industry Technologies Consortium (ITC) announces the hiring of Laurie Strom as its new Executive Vice President & Chief Operating Officer.
"Laurie will be an excellent first EVP & COO for the ITC, as she is a tested leader and is able to analyze situations, define vision and motivate implementation of strategic programs," David L. Schutt, PhD, Chief Executive Officer of SAE International, said. "She brings a global perspective and is skilled at leading remote, cross-functional teams."
Among her duties, Strom will be responsible for implementing the mission and vision of the organization; she will direct and lead all functional operations to develop and achieve ITC's long-and short-range objectives, and she also will serve as the primary liaison for the ITC Board of Directors.
Throughout her career, Strom has leveraged technical and managerial expertise to provide data driven process improvements, practical but innovative solutions, and develop strong business relationships.
Prior to joining SAE ITC, Strom served as a Director with Honeywell Aerospace. While there, she provided tactical and strategic direction for more than 200 material and process engineers at more than 20 sites in 10 countries. She also coordinated Honeywell's support for industry standards writing, technical auditing and personnel development.
Prior to Honeywell, Strom spent seven years at small businesses working in various research, development, production, sales and marketing roles. In the preceding five years, she was a Research Scientist and Technology Marketing Specialist at Eastman Kodak Research Labs. Strom has two patents on superconducting ceramics, one on molten metal filters, a pending patent related to additive manufacturing and several technical papers and research synopses related to ceramics, sensors, and medical technology.
Strom has a Masters in Materials Science from Rochester Institute of Technology, and dual Bachelor degrees in Geology and Ceramic Engineering from Alfred University.
SAE ITC is an affiliate of SAE International. Its mission is to build industry infrastructure tailored to the respective technology, market and industry member groups while satisfying time horizons and providing the responsible resources to enable achievement of industry objectives.
SAE International is a global association committed to being the ultimate knowledge source for the engineering profession. By uniting over 127,000 engineers and technical experts, we drive knowledge and expertise across a broad spectrum of industries. We act on two priorities: encouraging a lifetime of learning for mobility engineering professionals and setting the standards for industry engineering. We strive for a better world through the work of our philanthropic SAE Foundation, including programs like A World in Motion® and the Collegiate Design Series™.