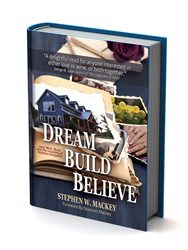 "Stephen Mackey has penned a memoir both revealing and inspiring for anyone seeking to flee the city for the vineyards." - Dave McIntyre, Wine Columnist for The Washington Post.
Purcellville, Virginia (PRWEB) September 29, 2016
Any person who has ever visited a winery has at some point wondered what it must be like to cast off their corporate shackles and throw themselves headlong into the romance of the wine industry. Wine Composer and author Stephen W. Mackey's new book, "Dream. Build. Believe." takes readers on an emotional roller coaster through leaps of faith, reality television, home building, winery blunders, farming mishaps, pregnancies, business startups and eventually international award recognition.
George M. Taber, author of "The Judgment of Paris" says, "Stephen's memoir is a delightful read for anyone interested in either love or wine, or both together."
October is Virginia's Official Wine Month, a celebration that finds wine lovers from around the country and the world visiting the Commonwealth to enjoy world-class wines while exploring Virginia's stunning landscapes, rich history, and fine dining. Enjoying the heartfelt and at times hysterical story of Notaviva Vineyards—the world's first winery to pair wine and music—will now give visitors an unparalleled and honest perspective on what it really takes to found a family farm winery.
Stephen will be appearing at signings at Barnes & Noble bookstores across Virginia, as well as the MetroCooking Expo in Washington, D.C.
Dream. Build. Believe. Love, Wine, Music and the Founding of Notaviva Vineyards
By Stephen W. Mackey, Foreword by Shannon Mackey
ISBN: 978-1631777295
Available in hardcover, e-book
Direct-to-consumer orders shipping now through Amazon and Barnes & Noble
Published by Mascot Books / Distributed by Baker & Taylor and Ingram
About the Author
Stephen Mackey is an award-winning entrepreneur, wine composer and creative director. After successful careers in professional audio and digital media management, he co-founded Notaviva Vineyards and Mesh Omnimedia with wife Shannon, with whom he starred in the HGTV reality television series Dream House filmed during the construction of their home and winery. Recognized internationally as a dynamic, entertaining and inspiring public speaker, his passion for showing others how to face their fears, overcome adversity, and follow their dreams flows through his work. Visit the book's website at http://www.Dream-Build-Believe.com/ and the winery website at http://www.NotavivaVineyards.com/
# # #