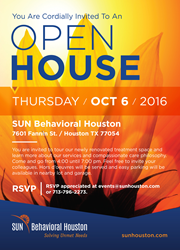 (PRWEB) September 28, 2016
SUN Behavioral Houston, a member of the SUN Behavioral Health family of psychiatric hospitals, is holding an open house to showcase the facility's newly renovated treatment space. During the open house, which takes place from 4:00 to 7:00 p.m. on Thursday, October 6, 2016, staff will provide refreshments along with tours of the facility highlighting available services which include:
Adult Programs

Inpatient Psychiatric Treatment
Mental Health Partial Hospitalization
Mental Health Intensive Outpatient
Co-Occurring Disorders
Mood and Anxiety Disorder Unit
Thought Disorder Unit
Intensive Care Unit
Adolescent Programs
Inpatient Psychiatric Treatment
Children's Programs
Inpatient Psychiatric Treatment
Upcoming programs will include Adolescent Partial Hospital and Intensive Outpatient and Women's Inpatient Specialization with a Trauma Component.
This event will provide an excellent chance for professionals who work in behavioral health, including psychiatrists, psychologists, physicians, nurses, therapists, substance abuse counselors, first responders, legislative officials, religious leaders, school officials, and social workers, to learn more about the programs SUN Behavioral Houston has to offer, ask questions, and meet many of the staff. Media are also welcome to join the tour, and media availability will follow. Parking will be available in a nearby lot and garage.
RSVPs are appreciated. Please call 713-796-2273 or email events(at)sunhouston(dot)com.
About SUN Behavioral Houston
SUN Behavioral Houston is a 148-bed behavioral health hospital located at 7601 Fannin Street in the Texas Medical Center. Opened in January 2016, the mission of SUN Behavioral Houston is to establish a center of excellence in the treatment of mental illnesses. The hospital operates a 24/7 assessment and admissions department to allow patients access to an array of services such as inpatient and outpatient care, psychiatric and substance abuse programs and specialized programs for youth, adults, women, and seniors. For more information, please visit http://www.sunhouston.com.
About SUN Behavioral Health – Solving Unmet Needs®
SUN Behavioral Health operates freestanding psychiatric hospitals where a substantial unmet need for services exists. We work closely with medical and surgical hospitals, physicians and behavioral health care providers as well as local schools and community organizations to ensure that our hospitals provide our patients and their families with a seamless continuum of care that meets the highest standards of personalized treatment. For more information about SUN Behavioral Health, please visit http://www.sunbehavioral.com.