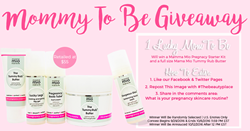 (PRWEB) September 29, 2016
September is a busy time for new arrivals, as a ranking of births in the United States between 1973 and 1999 showed that more babies were born in September than any other month. This means that every year, like clockwork, millions of women become mothers. It also means that more and more women need a little TLC for their skin during a time when their bodies are put to the test. That's because pregnancy can cause different skin concerns, such as common stretch marks, skin tags, bumps, and even occasional bouts of seemingly uncontrollable acne.
TheBeautyPlace.com has a solution that's destined to transform the new mom's skin in almost no time at all. The leading online retailer, specializing in high-end beauty products at affordable prices from the world's best brands, is running a mom-to-be skin care giveaway. The company, which carries a wide range of get-glamorous products, including cosmetics, skin care, hair care, and body care, will award one lucky winner a prize with luxurious products for the new mom from Mama Mio.
One winner will be chosen to receive a Mama Mio Your Pregnancy Essentials Kit and a full size Mama Mio The Tummy Rub Butter (4.21 oz.). Mama Mio is a favorite of mamas all over the world. The line was created in response to the growing demand for products that cater specifically to the unique needs of the skin throughout (and after) pregnancy.
Made with skin-loving ingredients that nurture, heal, and protect, Mama Mio's products are just what skin needs to feel softer and healthier. Mom is bound to be pretty busy once the little one arrives, so she'll especially appreciate this much-needed dose of pampering.
The Tummy Rub Butter is one of the company's most iconic products. It's a thick emulsion made with avocado, argan, sweet almond, and rosehip oils to smooth skin, improve elasticity, and minimize the appearance of stretch marks. It may even help prevent them if used regularly. The Your Pregnancy Essentials Kit contains four must-haves: a tube of The Tummy Rub Butter and bottles of Pregnancy Boob Tube bust protection cream, Gorgeous Glow balancing facial wash, and Lucky Legs cooling and energizing leg gel to combat fatigue. This lavish prize is retailed at over $50. The mom-to-be winner will be announced on Monday, October 10, 2016, after 12 p.m. on Facebook.
In order to participate, contestants must like TheBeautyPlace.com on Facebook and follow the company's Twitter page. Repost the giveaway image on Facebook with #thebeautyplace and share your pregnancy skin care routine in the comments.
About TheBeautyPlace
TheBeautyPlace.com is a premier online retailer featuring professional beauty products and tools from the industry's leading cosmetic, hair, and skin care brands. Find the world's top brands at discounted prices. TheBeautyPlace.com strives to offer current and prospective clients excellent customer service and make available the most coveted beauty products in the industry.
Follow TheBeautyPlace.com on social media:
On Facebook: https://www.facebook.com/ShopTheBeautyPlace
On Twitter: @TheBeautyPlace
On Instagram: @TheBeautyPlace
On Pinterest: http://www.pinterest.com/thebeautyplace