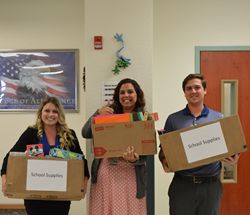 "We believe that it is important to actively give back to our community."
Fort Myers, FL (PRWEB) September 29, 2016
During the month of August, Midland IRA & 1031, a local self-directed IRA administrator and 1031 exchange qualified intermediary, held a company-wide school supply drive to benefit the students and teachers of Treeline Elementary School. The Midland staff collected over 300 school supplies.
Treeline Elementary School is a Title I school located in Fort Myers, Florida. Title I schools have the highest concentrations of poverty based on the number of students enrolled. There are currently fifty-eight Lee County schools that identify as Title I. The National Education Association published a report saying that, "For the first time in recent history, more than 50 percent of all children attending public schools live in poverty, and the number of homeless children in public schools has doubled since before the recession." A survey taken by the Huffington Post noted that out-of-pocket last year teachers spent an average of $500 on school supplies. Time.com reported that, "For teachers in lower-income districts, the burden can be even higher. Within the past year, Communities in Schools conducted a survey of 700 teachers and found that more than 90% have to buy school supplies to help low-income kids whose parents can't afford even basic things like pens and notebooks." Midland IRA & 1031 wanted to help relieve some of that burden from the teachers and students at Treeline Elementary school by donating school supplies.
The company collected a total of 338 supplies consisting of notebooks, rulers, crayons, folders, paper, glue sticks, and many other supplies. "We believe that it is important to actively give back to our community." says Dave Owens, president and CEO of Midland IRA & 1031. "That is why we try to get involved as frequently as possible."
Midland IRA & 1031 does multiple fundraisers each year. The company will be holding a Thanksgiving food drive for the Friendship Centers later this year.
About Midland IRA
Midland IRA is a self-directed IRA administrator that provides tax-deferred and tax-free investment opportunities, superior customer service, and educational tools to assist investors in realizing the maximum benefits possible within IRAs. Midland IRA makes it easy to use self-directed retirement plans to invest in assets that the individual investor knows, understands, and can control. Midland IRA is also a 1031 exchange qualified intermediary. To learn more visit www(dot)MidlandIRA(dot)com.
About Dave Owens
Dave Owens is president of Midland IRA in Chicago, Fort Myers and Miami. Owens opened the Fort Myers headquarters in 2003. His background as a certified public accountant, combined with a long history of personal retirement self-direction, provides his audiences and clients with solid advice and practical solutions to their IRA investment questions. Dave holds a BS in accounting from Purdue University. He also earned the prestigious Certified Exchange Specialist designation through the Federation of Exchange Accommodators.