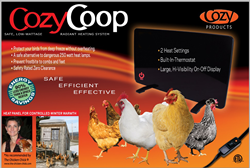 ...the Cozy Coop is helping expand markets outside of just home and office to include commercial farming.
Chicago, IL (PRWEB) September 29, 2016
The industry leader in energy-efficient heating solutions for home and office, Cozy Products™, updated its product line with new Cozy Legs®, Cozy Coop, Foot Warmer™, and Toasty Toes™. These heating solutions embody the Cozy Products™ sustainable approach to heating by offering results while staying safe, eco-friendly, and extremely effective.
Cozy Legs® features not only a whole new look with a sleeker, smaller, lighter design, an in-mold handle makes it more portable than ever. This flat-panel space heater uses about the same energy as a lightbulb and heats up immediately. The low wattage makes Cozy Legs® safer to use than traditional space heaters, with a safety-rated Zero Clearance designation—this means lower risk of fire.
Perhaps the most interesting addition to the Fall/Winter 2016 line of Cozy Products™ is the Cozy Coop. Cozy Coop mimics the same effective Cozy Legs® design, but is targeted to protect from deep freeze. Cozy Coop easily installs in coops, and prevents frostbite to combs and feet.
According to Cozy Products™, the Cozy Coop is helping expand markets outside of just home and office to include commercial farming. Cozy Products™ offers accessibly to commercial agricultural markets, as well as lower prices and better value to the consumer.
Two more upgrades were released for home and office use—Foot Warmer™ and Toasty Toes™. Foot Warmer™ is a heated mat that warms up to 130°F, while using no more energy than a desk lamp. Toasty Toes™ offers an ergonomic foot warming solution, and can also help improve circulation and blood flow to feet. These products reduce fire risk, and are safe around children and pets.
"We [at Cozy Products™] are extremely excited about our new product releases, as it has afforded us the opportunity to reach into new markets, and leverage our energy-efficient heating [methods] in the home, office, and commercial environments," Dennis Tilles, President for the Bird-X group of companies, said.
Cozy Products™ is part of the Bird-X group of companies. For more information on these items, or any of the Cozy Products™ diverse line, please call customer service at (800) 662-5021.