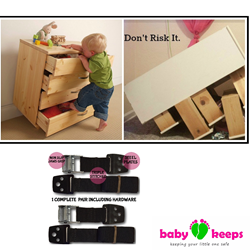 The simple, yet shocking truth is that every 24 minutes in the United States, a child visits the ER as a result of an accident from a falling TV or article of furniture
New Providence, NJ (PRWEB) October 05, 2016
For parents, nothing is more important than the safety of their children, especially when they reach an age where they crawl and grab at anything near them. This natural inquisitiveness has led to a high number of ER visits and even tragedy— inspiring BabyKeeps to release their newest childproofing product, anti tip straps, a must-have for any home with a flat screen TV on a stand or furniture that can be climbed on by a small child.
"This is a product that we are passionate about bringing to market because these anti-tip furniture straps are important safety equipment, designed to protect little ones from harm, injury, and potentially death," said Beth Kiley, co-founder of BabyKeeps.
"There are some staggering statistics released from the Consumer Product Safety Commission which state that in the U.S., a child is brought into the ER every 24 minutes and a child dies every 2 weeks from a tip over accident in the home," she added.
The BabyKeeps anti tip TV straps were designed to fill a void in the marketplace for high quality safety straps. The BabyKeeps brand of premium straps combines metal plates with durable heavy duty webbing and a metal non-slip cam buckle with a "jaws grip" that secures them tightly. The strap is triple stitched for extra security and there are no plastic parts or velcro. All mounting hardware for furniture & bolts to fit various TV brands and sizes is included.
A product demo video and step by step installation guide is available on the BabyKeeps website and on YouTube to assist customers.
Parents can purchase BabyKeeps' new safety straps exclusively through Amazon. For a limited time only, buyers can enjoy $2.00 savings off the regular retail price by entering code BABY2OFF at checkout. All sales come with a no risk 100% money back satisfaction guarantee and there is free shipping on qualifying orders.