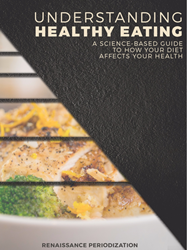 This new eBook will help put people on the proper path to understanding what they eat and how they eat, so they can enjoy a better, healthier way of living
Charlotte, NC (PRWEB) September 29, 2016
There are seemingly countless diet books on the market and experts talking about diet trends and health - Is it better to eat meat or be vegan? Do antioxidants prevent you from getting sick? The diet and health community is rife with literally thousands of claims many of which are completely false, and many more of which are much more nuanced than claimed. Yet, more and more pundits are starting to pick science over fads & myths and the highly qualified and educated team of doctors, coaches, professors and dietitians at Renaissance Periodization (RP) today announced the release of their eBook; "Understanding Healthy Eating" written by Dr. Mike Israetel, Dr. Jennifer Case and Dr. Trevor Pfaendtner. The book is available now for a special introductory price of $14.99 (regular price is $24.99) and can be downloaded at http://renaissanceperiodization.com/understanding-healthy-eating.
RP, a leading health, fitness and nutrition company takes their scientific approach to training and eating and translates it to their latest eBook, designed for anyone that is looking to lead a healthy lifestyle and maintain a healthy weight. The company name itself, Renaissance Periodization, conveys their mission of introducing a scientific and quantitative approach to fitness so people can reach their goals without being sidetracked by myths, fads, and unquestioned assumptions. Hence why "Understanding Healthy Eating" was written, to clear the air and help consumers decipher all the opinions floating around and be able to separate fact from fiction and the possible from the "in your dreams" mentality.
The experts at RP believe that science is the surest path to the truth in the search for healthy approaches to eating and provides a one-of-a-kind opportunity to study health concepts. However, the way to discern the most likely truth derived from science isn't to read a study here and there, but rather to look at the majority of the studies ever done on a subject, take all that information together and make conclusions and recommendations that are based on fact, not hype.
This unique approach to research is what sets "Understanding Healthy Eating" apart from other diet eBooks on the market. By looking at most (or nearly all) of the studies done on a subject, the authors can be sure that they are not likely to be biased and simply cherry-picking the studies that please preconceived notions. Everyone is different and therefore needs a unique approach to their diet and nutrition. "Understanding Healthy Eating" recognizes the differences in dieters and lays out a path to better living that anyone can take.
"Everyone wants to be healthier, but many people simply don't know how to do it the right way," said Dr. Mike Israetel, author of Understanding Healthy Eating and co-founder of RP. "This new eBook will help to put most anyone on the proper path to understanding what they eat and how they eat, so that they can get on a realistic path to better, healthier living."
The book is a simple, jargon-free explanation of RP's findings and is written for anyone who is tired of fads, scams, contradictory claims and confusion. "Understanding Healthy Eating" provides clear answers and a set of dependable principles on which to judge, plan, and create a healthy pattern of eating.
Chapters in the book cover topics including:

The Six Principles of Diet and Health
The Path to a Healthier Diet
How Many Calories do YOU Need for Health?
How to Lose Weight in a Healthier Manner
The Importance of Food Composition - what you eat and how it affects your health
The Basics of Healthy Proteins, Fats and Carbs
Nutrient Timing – meal spacing, meal frequency, per-meal caloric intake, etc.
The Proper Way to Hydrate
The Truth About Supplements
The Four-Step Approach to Making the Change to Healthy Eating
Myths, Fads and Fallacies in Nutrition and Health
The authors understand that healthy eating is not easy. However, the goal of the book is to showcase that it does not need to be overly complicated, and the simplest changes (such as sticking to mostly healthy foods) are the powerful ones. If you do your best, don't obsess, and don't sweat the small stuff so that you can enjoy your healthy eating journey.
About the Authors
Mike has a PhD in Sport Physiology and is currently a professor of Exercise and Sport Science in the School of Public Health at Temple University in Philadelphia where he teaches several courses, including Nutrition for Public Health, Advanced Sports Nutrition, and Exercise, Nutrition and Behavior; Jen holds a PhD in Human Nutrition and is a Registered Dietitian (RD). She is also an accredited Athletic Trainer and Certified Strength and Conditioning Specialist, plus she's the 2014 IBJJF Master World Champion in the Purple Belt division, both for her weight class and absolute, and the 2014 Brown Belt Absolute Pan Am champion in the sport of Jiu Jitsu; and Trevor is a family medicine physician in Chicago, IL with an educational background that includes a BS in Movement Science from the University of Michigan and Doctorate of Osteopathic Medicine from Nova Southeastern University.
About RP
Renaissance Periodization is a diet and training consultation company co-founded by CEO Nick Shaw (with his wife Lori as COO) and Head Science Consultant Dr. Mike Israetel. RP's consultants (including the authors of this book) write diets and training programs for a diverse clientele. RP works with athletes trying to reach peak performances, businesspeople that need more energy at work, and people from all walks of life who want to look and feel better.
The founders of RP had a vision for a company that delivered the absolute best quality of diet and training to its clientele. By hiring almost exclusively competitive athletes that are also PhDs in the sport, nutrition, and biological sciences, Nick Shaw has assembled a team of consultants that is unrivaled in the fitness industry. In addition to training and diet coaching, the RP team creates automated diet and training templates that simplify the fitness process at very affordable rates. RP also publishes informational articles, informational books, cookbooks, and videos on diet, training, periodization science, and all matters involving fitness, sport and health. Visit us at http://www.renaissanceperiodization.com and find us on Instagram at @RPStrength.