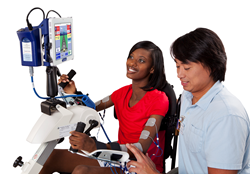 "This new financing program will help make possible Functional Electrical Stimulation as the standard of care for patients with a neurological impairment by making systems more affordable for clinics" said Judy Kline
Baltimore, MD (PRWEB) September 29, 2016
Restorative Therapies, Inc., the leader in FES powered systems, and Madison Capital, serving the healthcare industry for more than 40 years, today announced a new finance program for US and Canadian clinics.
Restorative Therapies supplies Functional Electrical Stimulation (FES) systems to rehabilitation clinics and early mobility equipment to intensive care units (ICUs) to help patients achieve their full recovery potential. FES is a physical therapy rehabilitation modality used to evoke functional movements and exercise not otherwise possible for individuals with a neurological impairment such as a spinal cord injury, stroke, multiple sclerosis or cerebral palsy.
"This new financing program will help make possible Functional Electrical Stimulation as the standard of care for patients with a neurological impairment by making systems more affordable for clinics" said Judy Kline, Restorative Therapies Sales and Marketing Director. "This finance program helps us fulfill our mission by making our FES systems available to more clinics in the US and Canada", she said.
FES systems for people with a neurological impairment include RT200 FES elliptical, RT300 FES cycle, and RT600 FES stepping system. RT300 supine is used by patients confined to bed in an ICU.
"Restorative Therapies' systems enhance patient outcomes and help maintain general health. Madison Capital is excited to be able to play a part by making this important rehabilitation equipment more affordable to more clinics" said Allan Levine, Madison Capital President, "We worked closely with Restorative Therapies to design a specialized financing program for clinics".
About Restorative Therapies
Restorative Therapies mission is to help people with a neurological impairment or in critical care achieve their full recovery potential. Restorative Therapies combines activity-based physical therapy and Functional Electrical Stimulation as a rehabilitation therapy for immobility associated with paralysis such as stroke, multiple sclerosis and spinal cord injury or for patients in critical care.
Restorative Therapies is a privately held company headquartered in Baltimore. To learn more about Restorative Therapies please visit us at http://www.restorative-therapies.com
Facebook: http://www.facebook.com/restorative.therapies.inc
Twitter: @rtifes
YouTube: http://www.youtube.com/user/restothera
Contact:
Judy Kline, Director of Sales and Marketing
Phone: 800 6099166 x301
E-mail: jkline(at)restorative-therapies(dot)com
About Madison Capital
Madison Capital has been serving the equipment and vehicle financing needs of the healthcare industry for over 40 years. Our clients include clinics, hospitals, nursing homes, and medical practices all over the US and Puerto Rico.
Madison Capital is a privately held company headquartered in Owings Mills, MD. To learn more about Madison Capital please visit us at http://www.madisoncapital.com
Contact:
Allan Levine, President
Phone: 443 796 7337
Email: alevine(at)madisoncapital(dot)com
Source:
Restorative Therapies Inc