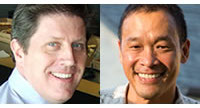 Reston, VA (PRWEB) September 29, 2016
XBOSoft CEO Phil Lew and Moss Drake of Dentist Management Corporation join forces at the 34th Annual Pacific Northwest Software Quality Conference (PNSQC) to deliver a workshop on Agile software project risk management. The conference will be held October 17-19, 2016, at the World Trade Center Portland in Portland, OR.
One of seven workshops featured in this year's lineup, Lew and Drake's workshop, titled "Managing Uncertainty and Risk in Agile Software Projects," will teach participants how to handle uncertainties and risk when software proves to be unpredictable and complex.
Lew brings his experience in software testing and quality assurance to present a view into non-conventional thinking on risk and uncertainty. In this workshop, Lew will use hands-on methods to teach participants how to determine which uncertainties matter and how to address them through associated software quality assurance and testing processes. Drake will draw on decades of insight into software project risk management to demonstrate how pragmatic practices and Agile techniques can utilize uncertainty for better focused teams and more effective products.
Participants can expect to walk away from the workshop with knowledge on:

What to do beyond classic risk identification and prioritization
How and when to apply classic risk management techniques to Agile
How to differentiate uncertainties from real risks during the software creation process
Register for PNSQC to gain access to Lew and Drake's full-day workshop. For more information on the workshop, visit https://xbosoft.com/event/risk-management-pnsqc-lew-drake/.
About PNSQC
The Pacific Northwest Software Quality Conference (PNSQC) was founded in 1982 with the mission to enable knowledge exchange to produce higher quality software and increase the awareness of the importance of software quality. As a non-profit corporation, PNSQC seeks to promote software quality by providing education and opportunities for information exchange within the software community. PNSQC provides opportunities to demonstrate, teach and exchange ideas on both proven and leading edge software quality practices. Visit PNSQC at http://www.pnsqc.org.
About XBOSoft
XBOSoft is a software testing and quality assurance company that offers services in web, mobile and desktop applications, as well as broad domain experience with extended expertise in healthcare and finance. XBOSoft's quality process assessments and test methodologies speed products to market and improve clients' software quality and performance throughout the software's lifecycle.
Now celebrating its 10th year of continuous growth, XBOSoft today has over 100 employees serving clients in the US and Europe. With offices based in San Francisco and Beijing, XBOSoft proudly offers its full range of testing and quality assurance as both on- and off-shore services. For more information visit http://xbosoft.com.