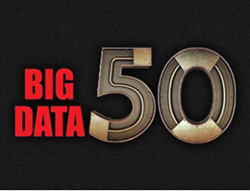 The Big Data 50 includes forward-thinking companies that are expanding what is possible in terms of managing and deriving value from data."
New York, NY (PRWEB) September 29, 2016
QuerySurge, the leading data testing & validation software for Big Data and Data Warehouses, was named to Database Trends and Applications' Big Data 50 - Companies Driving Innovation annual list.
Of the companies named in the Big Data 50, many, such as Amazon, Cisco, HPE, IBM, Informatica, Microsoft, Oracle, SAP, SAS, and Teradata are long-established industry stalwarts. Others, such as Cloudera, Couchbase, Hortonworks, MapR, MicroStrategy, MongoDB, Pivotal, Qlik, Splunk, and Talend are the hottest rising stars in Big Data.
"We are proud to be included with such a prestigious group of companies," said Bill Hayduk, CEO. "QuerySurge enables enterprises to solve the problem of bad data in their data warehouse and big data implementations. Our solution provides businesses with confidence in the underlying data that their BI and analytics platforms are accessing." According to reports from Gartner, poor quality of data costs an average organization $13.5 million per year.
To help organizations continue to get the most from their data, Big Data Quarterly presented their second annual "Big Data 50," a list of companies driving innovation. "The Big Data 50 includes forward-thinking companies that are expanding what is possible in terms of managing and deriving value from data."
The full report can be found here>>